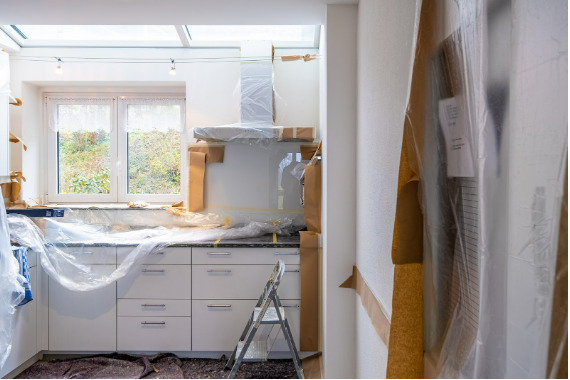 Want to refresh your kitchen but don't want to spend a fortune? DIY kitchen home improvement projects can be a great way to add value, functionality, and aesthetic appeal to your home without the expense of a full-scale kitchen remodel.
From painting cabinets to installing a new backsplash, there are plenty of projects that even novice DIYers can tackle with a little patience and the right tools.
In some cases, if you are an experienced DIYer, you may be able to tackle more complex aspects of the remodeling project based on your level of comfort and experience.
Here are a few examples of kitchen remodeling projects that a skilled DIY person could consider:
1. Cabinet Refacing or Painting
If your kitchen cabinets are in good condition but could use a facelift, you could reface them with new doors and hardware or repaint them to update their look.
This project requires some basic woodworking and painting skills, as well as careful measurements and planning.
2. Backsplash Installation
Adding a new backsplash to your kitchen can be a great way to add color and texture to the space.
Many DIYers can handle this project with some basic tiling skills and tools. Choose from a large variety of materials including tile, stone, glass, and even peel-and-stick options.
3. Countertop Replacement
If you're comfortable with power tools and have experience with basic carpentry, you may be able to replace your kitchen countertops yourself.
It's important to carefully measure and plan your installation to ensure a good fit, so follow the age-old advice "measure twice, cut once" when replacing your countertop.
When it comes to replacing countertops, it's important to carefully consider your options and choose a material that fits both your aesthetic preferences and your lifestyle.
Some materials, like granite and quartz, require regular sealing to prevent stains and damage, while others, like laminate and solid surface, are more resistant to scratches and stains.
Once you've chosen your material, be sure to research the specific installation process for that material and gather all the necessary tools and equipment.
Depending on the size and complexity of the job, you may want to enlist the help of a friend or family member to assist you with the installation.
4. Lighting Upgrades
With the right lighting, your kitchen can become a more enjoyable and efficient place to cook, eat, and entertain.
Fortunately, swapping out outdated light fixtures for new ones or adding under-cabinet lighting can be a relatively easy DIY project that can have a big impact on the look and functionality of your kitchen.
Just be sure to follow electrical safety guidelines and turn off the power before working on any wiring.
If you're not comfortable with electrical work, consider hiring a licensed electrician to do the job. It may cost more, but it's worth it for your safety and peace of mind.
5. Flooring Replacement
If you have some experience with flooring installation, you may be able to replace your kitchen flooring yourself.
Hardwood, laminate, tile, and vinyl plank are common options for DIYers who want to replace their kitchen flooring. Choose a water-resistant, durable material that can stand up to the demands of a kitchen.
Finally, before starting any DIY kitchen remodeling project, it's important to carefully plan your project, research materials and techniques, and consider your skill level and comfort with various tasks. If you're unsure about any aspect of the project, it may be best to consult with a professional contractor for guidance.
5 Ways to Create a Kitchen Office
Remodeling Projects to Add Value to Your Home