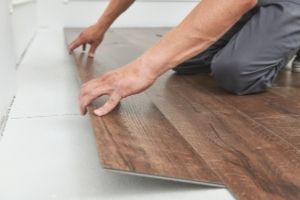 If you're putting off remodeling because of practical concerns, congratulations—you are a responsible, shrewd homeowner. Without enough funds, scheduling, or experience, a big project is doomed to fail. But with a more strategic approach, you can prioritize affordable home improvements that make an impact, for a complete renovation you can take one step at a time.
Level Up the Landscaping
If you have more time than money, you can buy some bricks on the cheap to make your own patio, or create a walkway with gravel, concrete, or stone. A little curb appeal goes a long way, so a garden cleanup can make your home look fresh, modern, and well-maintained. A professional landscaper can cost a few thousand dollars, but even basic strategic upgrades—a tree, flowering shrubs, stone planters—will increase the value of your property.
Install New Flooring
The odds are that your carpet looks old at least somewhere in your house. Take the opportunity to make over the vibe of a room in one step, by replacing the flooring with a new color and texture. Now luxury vinyl flooring can mimic hardwood down to the grain, texture, and finish. A decent floor will run you $2 a square foot, but you can select different quality at different price points. And you can save even more by installing it yourself.
Upgrade the Hardware
Kitchens and bathrooms can age fast, and there's no easier way to identify out-of-date décor than by the knobs and handles. If you're not up for a bigger project like re-staining cabinets, you can switch out the hardware for brand-new styling. You can get a basic drawer pull for under $2, but watch out—if you have a lot of storage, it can add up. And don't spend too much time shopping, or you'll end up with Swarovski crystal knobs at more than $100 a pop.
Use the Latest Technology
There's one affordable home improvement that makes an impact, but not on the home itself; it improves the way you run it, for more effective organization and greater peace of mind. You can subscribe to apps to help you keep track of maintenance, document assets for insurance, budget for repairs, reduce energy bills, and make better financial choices. Bonus: smart home apps can even help you plan future improvements.
The Ten Important Blogs to Help Manage Home Improvements
Winter Home Improvements to Cut Energy Costs