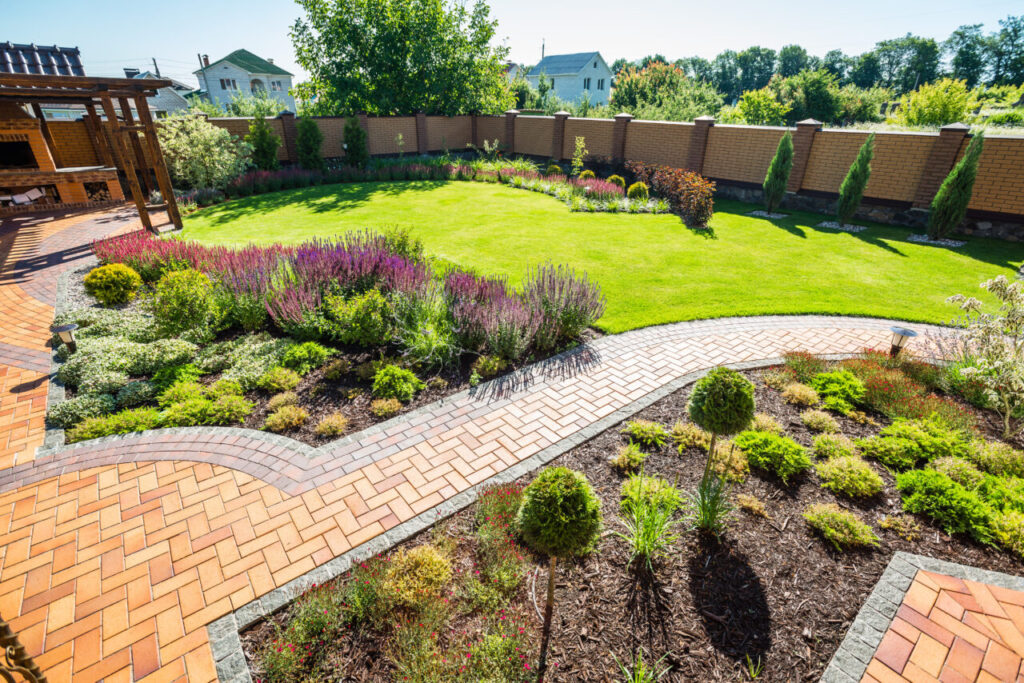 A beautiful, well-maintained yard can drastically improve curb appeal and add significant value to your home. However, not everyone has the budget for extensive landscaping projects or expensive garden designs.
Nationally, homeowners spend an average of $10,000 to landscape a 1/4-acre yard, which includes professional design, grading, grass seed, plants, and hardscaping. The costs can increase dramatically from there.
Fortunately, there are many inexpensive ways to improve your yard, boost your home's curb appeal, and increase resale value, all without breaking the bank. Here are 10 tips and ideas to get you started:
1. Keep It Clean and Tidy
The first and easiest step in improving your yard's curb appeal is to keep it clean. This means regularly picking up debris or litter, trimming grass and bushes, and pulling weeds. While regular maintenance can be time-consuming, a neat and tidy yard instantly looks more inviting and increases perceived value.
2. Don't Skip the Mulch
Adding a layer of mulch to your garden beds is an inexpensive and easy way to completely transform the look of your yard. Mulch adds a finished look to your landscaping and helps control weeds and retain moisture. Plus, it comes in various colors and textures, so you can choose one that complements your home's style.
3. Install a Pathway
A pathway leading up to your front door adds functionality and aesthetic appeal to your yard. You can create a path with simple stepping stones, gravel, or recycled materials, such as pallets or broken concrete. The key is to make sure the path is level and well-defined.
4. Make Smart Planting Decisions
Although annual plants like marigolds and snapdragons are perfect for adding color to planting beds and containers, they only last for a single growing season and are unlikely to survive the winter in much of the U.S. That makes replacing them every year a costly and time-consuming endeavor.
Instead, consider selecting perennial plants for your front yard landscaping, providing a more cost-effective and long-lasting garden. Additionally, perennial plants often require less maintenance and care, reducing the cost of upkeep over time.
5.  Light Up Your Yard
Outdoor lighting not only adds safety and security to your home but also a warm and welcoming ambiance. You can install inexpensive solar-powered lights along your pathway or driveway or add decorative string lights to your porch or patio area.
6. Incorporate Water Features
Water features, such as fountains, birdbaths, or small ponds, can add a tranquil and relaxing feel to your yard. They don't have to be elaborate or expensive — a small, simple fountain or birdbath will do the trick.
7. Create a Focal Point
Adding a focal point to your yard can help draw the eye and add interest. This could be a unique tree or shrub, a statue or sculpture, or even outdoor art. Just make sure your focal point complements the style of your home and doesn't overwhelm the space.
8. Keep Things Contained
If you don't have room for a full garden, containers can be a great way to add some greenery to your outdoor space. You can use a variety of containers, from clay pots to recycled materials, such as old buckets or baskets. In order for your plants to thrive, ensure your containers have proper drainage and are large enough to give your plants room to grow.
9. Sharpen Those Edges
Adding edging to your garden beds instantly gives them a polished look. Distinct edges provide a clear boundary between your lawn and garden, keeping grass and weeds at bay. Just make sure the edging is level and well-defined. You can use various materials, from brick or stone to plastic or metal.
Additionally, edging can help to keep soil and mulch in place, reducing the need for frequent maintenance.
10. Make Room for Outdoor Seating
Creating a small seating area in your yard can add functionality and charm. If possible, arrange your furniture under a shaded area that offers protection from the elements, but you should still use furniture designed for outdoor use in case of rain.
Improving your yard's curb appeal doesn't have to be expensive or complicated. Regular maintenance will help you avoid more extensive, costly projects down the road and will keep your home in good condition when it comes time to sell. Following these 10 tips and ideas, you can create a beautiful and welcoming space that complements your home's style and enhances your overall living experience.
Factors to Consider When Planning Your Landscape Design
5 Tips for Creating a Drought-Tolerant Yard