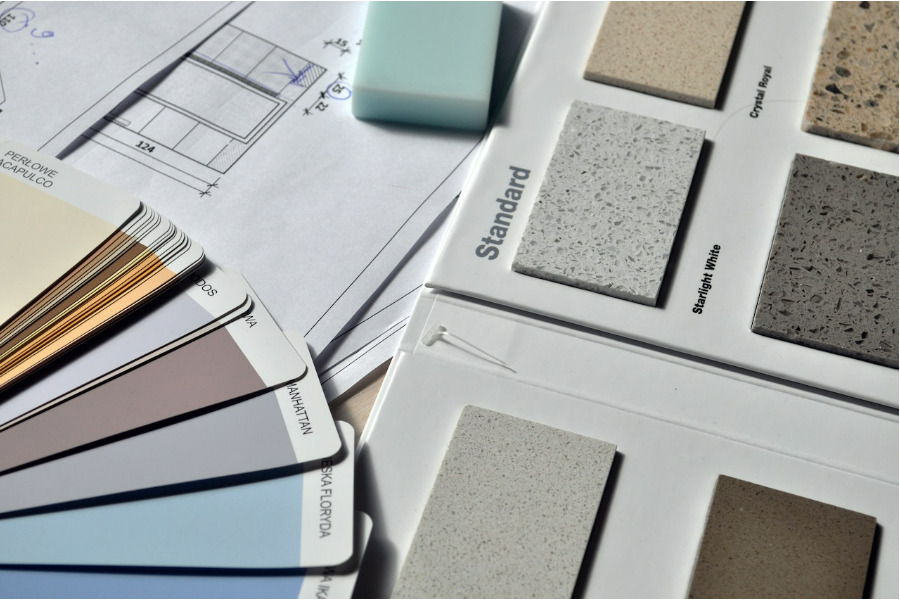 Home renovations are a fantastic way to breathe new life into your living space, enhance functionality, and increase property value.
Whether you're looking to revamp your kitchen, create a relaxing outdoor oasis, or add a touch of luxury to your bathroom, there are countless renovation options to suit every taste and budget.
Read on as we explore the most popular home renovations and provide examples of specific projects within each category.
1. Kitchen remodel
The kitchen is often considered the heart of the home, and upgrading it can significantly improve your daily life and boost resale value.
Examples of common kitchen renovation projects that can benefit your home's value include:
⬥ Cabinet refacing: Give your kitchen a facelift by replacing cabinet doors and drawer fronts while keeping the existing layout intact.
⬥ Countertop upgrade: Replace old laminate countertops with durable, and beautiful options like quartz or granite. Another, more budget friendly option would be a countertop painting kit.
⬥ Appliance updates: Install energy-efficient appliances that not only enhance the functionality of your kitchen but also help you save on utility bills.
2. Bathroom upgrades
A well-designed bathroom provides a sanctuary for relaxation and rejuvenation. Homeowners often choose bathroom renovations to create a spa-like atmosphere and increase their home's appeal.
Here are some popular bathroom renovation projects:
Tile revamp: Replace worn-out tiles with stylish options to refresh the overall look and feel of your bathroom.
Shower remodel: Upgrade your shower by installing a luxurious rainfall showerhead, adding a glass enclosure, or opting for a modern walk-in shower design.
Vanity enhancement: Replace old countertops, sinks, and faucets with more contemporary options, adding both functionality and style.
3. Outdoor living spaces
With the desire for more usable outdoor spaces, renovating the backyard has become increasingly popular. Transforming your outdoor area not only provides additional living space but also enhances curb appeal.
Here are a few ideas for outdoor renovations:
⬥ Deck or patio add-on: Create an inviting outdoor living area by adding a deck or patio where you can relax, entertain, and enjoy the fresh air.
⬥ Landscaping overhaul: Upgrade your landscaping with vibrant plants, hardscaping elements like walkways and retaining walls, and outdoor lighting to create an inviting and picturesque garden.
⬥ Outdoor kitchen: Bring the joy of cooking and entertaining outside by building an outdoor kitchen complete with a grill, countertops, and seating areas.
4. Basement conversions
Basements are often underused spaces that can be transformed into functional areas that add value to your home. Renovating your basement can provide additional living space for different purposes.
Consider these basement renovation projects:
⬥ Home theater: Create a cozy entertainment hub by converting your basement into a dedicated home theater, complete with comfortable seating, a large screen, and surround sound.
⬥ Home gym: Transform your basement into a personal fitness center by adding workout equipment, mirrors, and rubber flooring to create a motivating space for exercise.
⬥ Guest suite: Renovate your basement into a comfortable guest suite by adding a bedroom, bathroom, and small kitchenette for visitors.
From kitchen remodeling to outdoor transformations, there is no shortage of exciting renovation ideas to explore. Remember to carefully plan your project, set a budget, and hire professionals when needed to ensure your renovation journey is successful. With the right improvements, you can turn your house into the home of your dreams.
Ways To Prevent Home Renovation Relationship Stress
Financially Plan All Your Future Remodel Projects