They say first impressions are everything. That goes for your home as well. You should also keep in mind that what your home looks like from the outside will be the only impression a majority of people take away about your home. When you are considering what impression you want to make on others, remember that outdoor lighting tips are great to showcase you home at night.
You should think about the exterior of your home in two ways:
1) How it looks during the day
Obviously, the appearance of your home is going to change a lot from day to night, and there are things you have to take into consideration at night that might not necessarily cross your mind when you are sprucing up the exterior appearance of your home.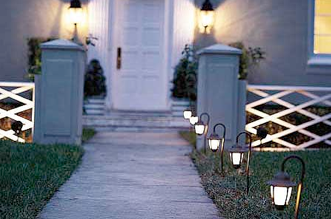 The majority of your focus might be on the front or street view of your home. You want to highlight the exteriors you are most proud. If you spend hours everyday working on your garden, there are some very cool and creative lighting fixtures you can buy to help highlight the garden at night. If you have a lonesome tree in your front yard that you love buy a light that shines on it and illuminates it at night. If you have a lengthy walkway from the driveway to the front door you have a great opportunity for some creative and cool lighting solutions, in addition to taking safety measures. Outdoor lighting tips will also come in handy when you need to think about safety and how people can safely approach your home without tripping over unlit steps.
2) How it looks at night
It is often a good idea, and it is standard on most homes, to have a light near the front door. It's also important to have at least one type of lighting in your backyard for security reasons. Outdoor lighting tips that take into consideration, safety, security, and aesthetics can accomplish a complete plan for updating a yard.