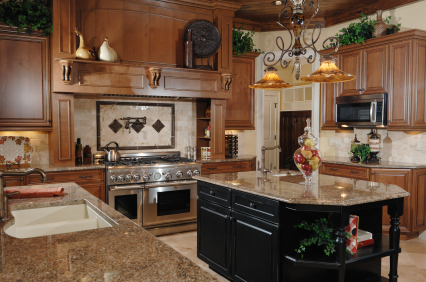 In years past, the kitchen was designed to be hidden from view from visiting guests. It was that place that we cooked and dirty dishes were not seen to our guests. Kitchen entertaining would never be thought of because of the piles of dirty dishes or the cooking experiment exploded on the ceiling, where you can clean that later. In in more recent years like within the last 20 – 25 years, our culture has seen a shift in kitchen design. Kitchen entertaining is real and designers and home builders recognized the need to incorporate stylish kitchens into floor plans. This concept of kitchen entertaining became a key component to more open kitchens, to
incorporating kitchens into other rooms to expand entertaining and the concept that the kitchen is the central gathering place and location within a home. No matter how often we tried to keep people out of the kitchen, they just felt comfortable in the kitchen.
If you have an open kitchen design, think back to your previous parties about how many people are standing around the kitchen island in conversation over drinks, food, movies, or any other topic of the week. Thus the concept of kitchen entertaining. As a result, when you plan future parties, think about whether you want to use the kitchen as a focal point of conversation, or do you want to use it as a staging area where you are cooking during a party or maybe both. Some guests are good with bringing foods and helping hosts prepare for a get together. Another idea for great kitchen entertaining is to throw a cooking party! This allows you to keep your cooking mess in the kitchen and also embraces your kitchen for entertaining.
If you are considering redesigning your kitchen and considering a home remodel project, take a look at the existing and intended use of your kitchen. This overview of usability will help you plan for that new amazing kitchen.