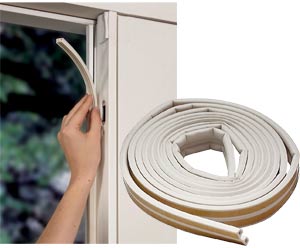 It's not incredibly difficult to find ways to save energy and money during the warmer months. Sometimes all you have to do is turn the air conditioner off and open a few windows. Winter is different. Unless you have a wood burner built into your house, you can't just turn the heat off and have a different solution. For that reason, your focus should be on two things to save energy and money: 1) Keeping the warm air inside your home, and 2) Keeping cold air out.
Here are a few things that can help you do just that:
Insulate your home with R19 insulation.
Cover your draftiest windows with clear plastic.
Weather strip doors and windows to make sure there are no cracks where cold air is getting in.
If you have the money and time, then adding a home remodel project to replace any single pane windows will help save energy and money.
Walk your home to check if there is air getting in and escaping out of your home. This will help you find areas that may need additional caulk or sealant to close off the air gaps.
Do you have any other tips to help save energy during winter? Let us know by commenting below or share your tips on our Facebook page!