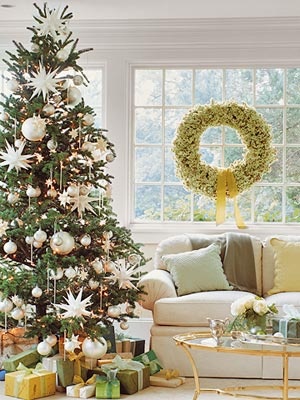 It is that time of year. Houses are getting the final touches on the holiday decor their owners are placing inside and out. Trees are going up and getting spruced up. As a result, the imagination is given the opportunity to express itself during this fantastic time of year. Christmas trees are fresh and live or colorful and artificial. The bulbs, ribbons, bows and ornaments that give a tree the holiday spirit are endless. Trees host clear lights, colorful bright lights or big bold solid lights. Angels and stars look down from the tree's very top perch.
The all time endless question, do you use a real Christmas tree or an artificial tree. Natural or real trees give you and your family the opportunity to make a day of choosing and securing a tree to take home. Natural trees come in a lot of varieties. Varieties like white, Normandy or blue spruce, scotch or white pines, or Douglas, balsam or Fraser firs. Of course, these are just a few types. Each of these trees has a different style of branch and slightly different scents. During their stay in your home, all of these trees requiring watering and care. As a result, you need to stay on top of watering these trees during the holiday.
Not surprisingly, artificial trees can be stored in an attic or basement. They can be stored either in their full shape or packed in a box or container. Artificial trees do not require the same care and maintenance of a natural tree. Once you put the tree up, there is no watering. One of the most challenging arguments, is that artificial trees also do not have the scents that natural trees bring into the home. A technique to add scent is by using a potpourri ornament with scented oils. Or add fresh tree branch pieces between the artificial tree branches to create a Christmas tree smell. Try using sprays or dab oils directly on the tree branches. Another option is these Scented Ornaments.
Artificial or real, whichever style of tree you choose, have fun and show your imagination with all the decorating possibilities. We would love to see your trees all decorated. Visit HomeZada at our FaceBook page and show us your trees. We will post ours shortly.