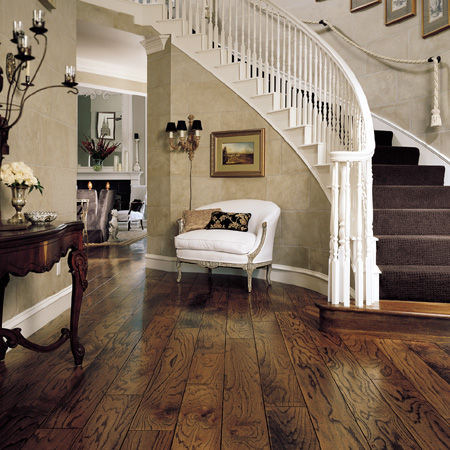 Deciding on what flooring put in your home can be tricky but also a lot of fun.  There are so many choices for flooring. And depending on where you live, your floors may need different textures. And many homes today have more than type of flooring throughout their home.
Carpet
Carpet and wall to wall carpet is found in many homes to create a feeling of warmth and softness under the feet.  Carpets are found in so many varieties.  You can get carpet with patterned designs, plush  carpet, shaggy carpet, Berber carpet and all in tons of colors.  Plush carpets are made of fabrics that are soft to the touch and are luxurious.  Shaggy carpet has that fun vibe is living it up. Berber carpet is durable and has a low profile that does not generally get caught in items.  Carpets are now incorporating designs and patterns to give a room a different look. Carpets also now come in so many colors along with some colors blended to create a new look.
Hardwood
Hardwood Floors offer a classic design to a home.  There are a mountain of woods to choose from when deciding what to put in your home. White oak is a durable and highly scratch resistant wood which is good for pets and children that run in the home.  Maple is also a good wood alternative and can be durable and affordable.  Other types of wood are cherry, birch, walnut, hickory ash, beech and pine all have great looks and properties to consider when placing them in your home.  Bamboo although considered a wood is actually from the bamboo plant making is really a grass.
Each of these products can also be stained a specific color to create a specific look. It natural wood is a bit high for your budget, companies also make affordable wood options from engineered wood products. Engineered woods are designed to look like the natural woods but are generally a bit less costly.
Reclaimed Wood
Reclaimed hardwood  is a fantastic way to make what is old new and useful again.  Floors that use reclaimed wood, have character and notstalia taken from old barns, sheds, and others buildings that might be demolished or destroyed.  Because there are fewer and fewer old buildings, this trend is becoming rare and therefore has a possibility of becoming costly.
Concrete
Concrete floors are so durable and can take any beating.  These are low maintenance floors where color can be added to spruce them up and give them pizzazz.   This flooring could get cold so throw rugs become center pieces for the home that incorporates concrete. Concrete can also crack so it will be important to embrace the cracks or utilize other furniture and household decor to cover the cracks.
Tile
Tile floors are nice for warm areas because like concrete, it can be cooler on the feet. However in the winter in cold areas, throw rugs might warm up a room a bit.  Tile is also durable and require little maintenance depending on what you choose to put in your home. Tile floors made with travertine, limestone or other natural materials may need to be sealed every year as they are more porous than most porcelain tiles. Tiles offer a way to create designs and styles that most people would not think to do in their homes.  With the different sizes of tiles, the direction of the tiles and the accent pieces, your floors can actually become a work of art.
There are so many choices for flooring in your home and which ever choice is good for you depending on your particular space has the ability for your to have a lot of fun designing your rooms. For more flooring ideas, visit HomeZada's Pinterest Page.