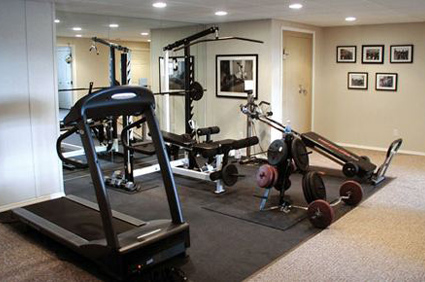 Bikini season is upon us, what better reason to start talking about converting a room or space into a weight room. A weight room can cost between $1,000 or upwards of $10,000 depending the equipment you choose to add to the room or space.
Finding time to get to the local gym for a workout is hard for many people. And some people prefer to exercise alone versus in a crowded gym. As a result, people are investing in more exercise equipment for the home and are turning a spare bedroom or even the basement or garage into an exercise room. Exercise equipment like treadmills, bicycles, and lifecycle machines are popular because of the cardio-vascular workout. All-in-one weight machines are also popular because they provide weight training by offering different upper and lower body workouts. Even a series of dumbbells with a bench, or mats for yoga and pilates are common for people working out at home.
Items for an in home exercise room
Depending on your exercise goals, space and budget, there are a number of different items to consider for an exercise room.
| | |
| --- | --- |
| Cable TV Receiver | Weight Set |
| Cardio Machine | Wall Hangings |
| Television | Window Treatment |
| TV Cabinet | |
How to plan an in-home exercise room
Decide where in the home is best suited for exercise equipment.  Measure the total available space you have for exercise equipment.  Once you know the space, make a priority list over the type of exercise that is most important to you.  Then do some research to understand the space requirements for each piece of equipment.
Once you have decided on how many pieces of equipment, don't forget the music or television in this workout area.  Many people want the extra audio or visual motivation during a workout to keep them going.  Also take into account the space you will need if you are using pilates and yoga materials.  You will need the space to make sure you can properly move and not injure your body.
For more information on building a workout room in your house, visit the HomeZada library.