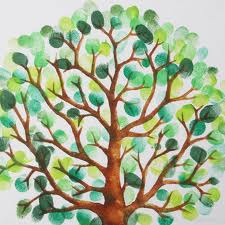 Whether your children are young or now grown or you do not have children at all, you will recall your time and your children's youthful times in kindergartner class. Preparing for the lessons to come and learning to engage with others while also learning about the different aspects of life like athletics, words, stories, and art.
Using your childlike mind or your young children's experiences to create an environment for you home can be a fun adventure. Kindergartner home decor can be executed with the four following tips. 
Art
During the time when we all did get to use our hands to paint a board or paper, why not try to use your hands to create a similar affect to a wall. Or use this concept on a piece of customized art. Even using your fingerprints to create a tree with fingerprint filled leaves. This painting can hang from your wall.  Create a wall scape using your hand prints or even a backsplash.
Playdough was a wonderful activity that taught us to build and sculpt anything in our imagination. Using sculptures or heading to a pottery facility to create you own masterpiece gives us a way to express ourselves. All this, while also decorating our home.
Stories
Remembering the stories of our childhood can identify a theme for a particular part of our home. Robin Hood tells of adventures in a forest where we can highlight the use of woods and natural materials. Using these tips to create a stunning room that resonated with a childhood story. A treasure hunt found in Peter Pan's world reminds of golds and island feelings. Yet with a hint of a London townhouse appeal you can share multiple styles.
Charlotte's Web reminds us of the stories of friendship and farmlands. Using lace to create and environment of webs or a rustic look to create a stable look to a room. Harry Potter gives us the love of magic and the unseen. Creating a world of creativity using crystals or maybe incorporating medieval or castle like pieces of art to demonstrate your version of Hogwarts.
And who can forget the world of Dr. Seuss. The silly, the fun, the bright, the off the walls kind of room.Using bright colors and unique furnishing to create a feel for a world that Dr. Seuss helped us imagine.
Words
As we learn to spell and discovery our ABCs, we discover the many meanings of words. Crafting room decor using just words can help create personalized messages in a home. We share some examples on decorating with words.
Words or letters can be used throughout your home to inspire, to navigate, to promote or to instruct a family to work, live and enjoy together.
Athletics
Reminding ourselves to get back out in the fresh air and kick a ball around, shoot hoops or dodge the opposing teams throw in dodgeball, helps us unwind and define what we need in a work out room or a game room. It helps us keep the idea of decorating walls with our favorite sports team's memorabilia. Or using the team colors to create a themed room.
Inspiration of athletics can also come by removing televisions from some rooms to add activity based areas that require movement … either inside or outside.
Whatever your inspiration for home decor, sometimes it's a little nice to go back in time.