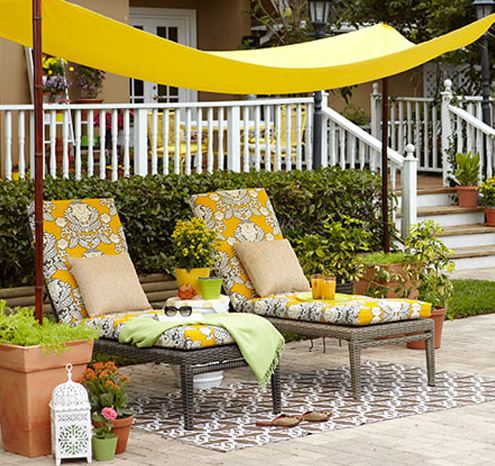 The ability to shade your backyard can be a fun project if you open your mind to some new ideas. Building shaded areas can be a simple as planting trees to as extensive as hiring contractors to build structures. We are going to share with you some of the most simple ideas to tackling the sun. 
Trees
Adding trees to your backyard can be simple and may require a bit of effort on your part to plant them.  Make sure they are close enough to the house to create shade but not to damage any part of the house.  Trees like maples, elms, birch, japanese maples, and crabapple trees give a draping effect to create shade.  Depending on the size of your tree, you may need to give the tree time to grow to get the shade you are requiring but having these trees can add value to your home.
Pergolas
Adding or building inexpensive pergolas add shade and also can help define areas in your backyard.  Adding definition to a backyard can also help create flow and appeal to an existing backyard.  This becomes a simple project if you buy pre-cut and designed pergolas from your local hardware store.   Or if you are ambitious, you can design your own.  Adding vines can add character create a softness of the structure.
Sails
The sailers knew all along that the material they used on their boats was functional.  Today, sails are an easy way to attach to a home or structure to create shade.  Sails come in many shapes and sizes along with a variety of colors that will fit with the design of your back yard.  This is one project you can also create yourself with the right materials.  Here are some tips on creating your own shade.
Awnings
Adding an awning to a home may require a contractor or an installer but this is a great way to add shade when you need it and to remove it when you want to the sun out.   Awnings like sails come in a variety of colors and patterns to suit the needs of your backyard design.  They also come in a variety of sizes.  If you have an large area you would like to shade or reduce the sun through a particular window, there are options for everyone's needs.
Umbrellas
Umbrellas are great sources for shade.  The color and pattern options for umbrellas is unless and the now the sizes and shapes are multiplying. Umbrellas are easily stored when not in use, are portable to move them around other areas, and multiple umbrellas in a back yard are functional and can add some fun to the back yard design.
Whatever choice you make or even combining choices, shading your back yard can be colorful, subtle or even natural.  Hopefully the shade will allow you some more activities outside.