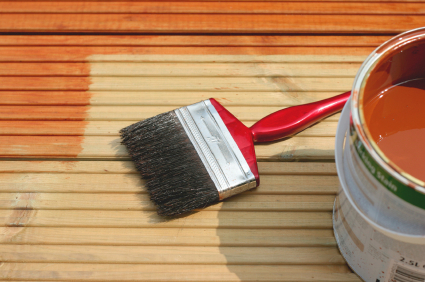 Exterior wooden decks and balconies get exposed to wide ranges of temperatures, to the hot sun, rain and snow. This kind of weather variation can take a beating on your exterior decks. You can prolong the life of your decks and balconies by sealing them with the appropriate products. Seal exterior wooden decks will keep them looking fresh, prolong the life of the decks, and maintain the overall value of the home.
How to seal your decks
First, remove all the items and furniture from your deck. Then sweep the deck of any dust or debris.  To make your deck really shine and to get the best clean possible, it is a good idea to pressure wash your deck. You can do this yourself or hire a professional to help you. If you find tough spots that require a concentrated focus, use a soft bristle brush to remove the spots.  Let the deck dry overnight or for approximately 24 hours.
Now you are ready to start sealing your deck but before you add the sealer, use a deck stripper solution to remove any excess sealer from the previous job. Let the deck dry again and then follow the directions of the deck sealer that is appropriate for your deck. Applying the sealer evenly will make your deck look uniform so carefully apply the sealer. Visit this video for more help on sealing your deck.