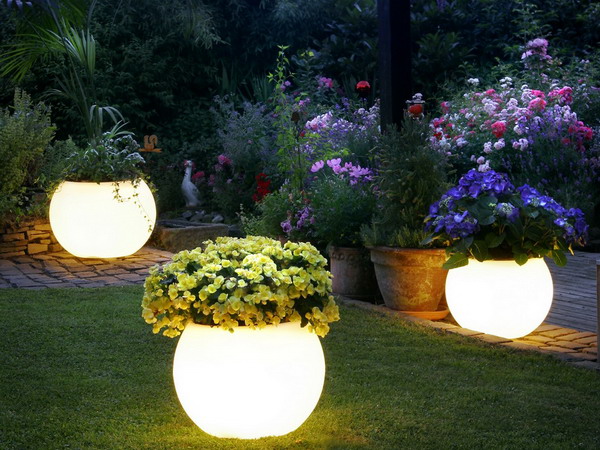 Outdoor lighting can give a yard a clear path from one section to another and can provide an ambiance that showcases the yard's characteristics. There are several ways to add outdoor lighting to a yard to create a specific look. Standard wall lighting or overhead lighting provides visibility and gives off a glow with can lights, spotlights or wall sconces.  This lighting is great to see the activity around your home, however it could be harsher light than what you may want to deliver for the rest of your yard.
Using low wattage or low level lighting can create a softer look to your home, but will also support safe walking areas so that others will not trip over something in the yard.  Lighting professionals can help with light placement, however we are going to show you some tips that you can incorporate into your current landscaping design.
Up Lighting
Display the features around your home or favorite stand out trees, by using up lighting from the base of the tree or feature to create a glow that moves upwards.  Use up facing lights to shine against a particular area of the home to make the home the focal point.
Pathway Lighting
For safety and to move around your yard at night, use ground lights to mark pathways.  You can choose from a variety of designs of light fixtures that will shine nicely at night but also look nice and fit the style of your yard in the day. Pathway lighting can also be designed in your patios and decks to create an architectural look, as well as, an ability to safely walk around a pathway.
Down Lighting
Ever thought to put lights in trees and have them shine down on a particular area?  By installing lights in trees, you can have your lighting shine down on a particular area in your home like a patio area that is covered by trees.  With this down lighting, you can create a new sense of visibility and you can showcase an ambiance that uses the trees and the tree's leaves to help define.
Pool Lighting
Adding lighting to pools can give pool owners the ability to swim at night but also create a warm and sultry affect at night.  Lighting a pool at night can feel like the moon shining down on your favorite Caribbean island beach and bring a gathering some more ambiance.
Freestanding Lighting
Adding lights to planters can bring a very 3D affect to the yard, while ornamental lights like big balls or lanterns can act as artwork in your yard both day and night. Try adding light up solar powered plant pots to light up the night.  Or try hanging lights from trees that have a shape that highlights your backyard design.
What is best about all this design is that during different times of the year, you can change out the bulbs to create a new look.  Colored light bulbs can create a much needed change to yard.  Try blues in summer time, pink for Breast Cancer Awareness Month, orange for Halloween, green and red for Christmas and purple and yellow for Mardi Gras.
No matter what your choices are for lighting up the night, have some fun with all the different options.