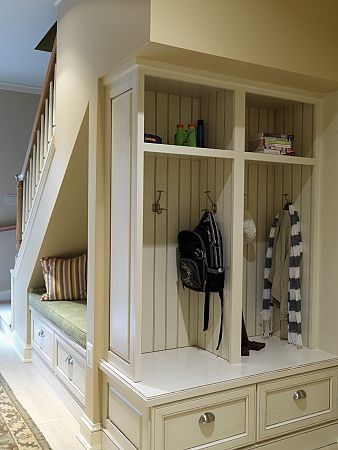 It is amazing all the items you need to get the children off and ready for school each day. Do they have their coats, hats, shoes, backpacks, and books? Do they have some sports event or practice later in the day that requires a uniform or sporting equipment? The constant worry of does my child have everything they need for the day is consistent. Especially, if the family is not organized. A way to get organized is by creating children's locker storage.
When creating this storage area is it important to remember what your child needs in order to seamlessly get off to school everyday. Some key areas to consider are:
Hanging Storage
Most children go off to school needing a coat or sweater. Some may need rain gear or cold weather apparel like scarves, hats and gloves. Having a hanging area will also allow for any potentially wet pieces to dry. Hanging back packs from this area can also make it easy for kids to grab their necessary information. Consequently, hanging backpacks in a central location can also help parents easily find the backpacks. As a result, parents understand the specifics of the child's day by including signed permission slips or reviewed homework. All is this can be centralized into the backpacks for arrival to school the next day.
Shoe Storage
Finding shoes all over a home can frustrate families. Because everyone is tripping over everyone else's shoes. And mismatched shoes seem to get lost all over the house. So having an area where each child can take off their shoes when they get in the door, save tripping. By placing shoes in the same location as their coats makes getting ready in the morning easy. And it can help with preventing tripping accidents over strewn about shoes. Also, this area can also potentially hold any specific sporting event shoes.
Extra Activities Gear
Many children are involved in sports, dance, gymnastics or other after school activities. When creating your space for your children's belongings, keep in mind the type and size of the equipment. This will be important in order to design your children's locker storage. Your home might not have enough room for some of the equipment. As a result, this may need be stored somewhere else. However, if you can keep the equipment close to the other items for your children, it will make getting off to school each day easier and reduce the worry.
Once you understand the basics of what your child's needs and your needs as a parent to make life easier for everyone, you can then configure the locker situation for your children. Take a look at the area in your home that you want to designate as locker room area. And with the configuration you have designed, determine if you can buy pre-built solutions that you can add to an existing room. Or you may need to create built-ins that meet your specific needs.
Once you have your lockers installed, your family can experience some more organization. Getting ready for school in the morning gets a lot easier with children's locker storage.