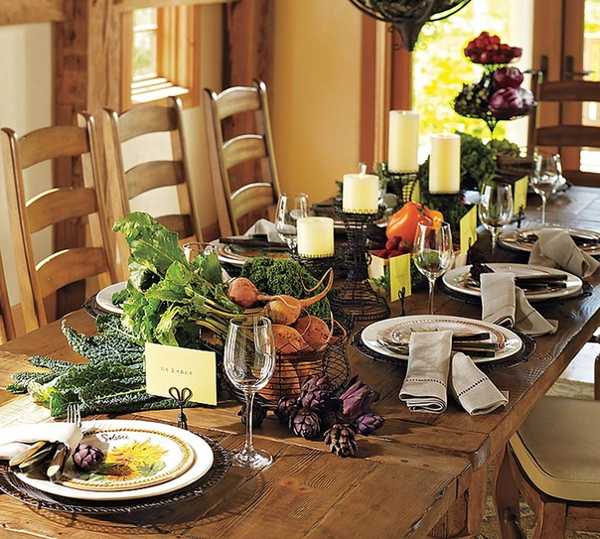 Thanksgiving is a time for giving thanks and celebrating with family and friends. Adding a magnificent table to your holiday festivities can be simple with a few of these tips. Thanksgiving table decorating is a great way to get the festivities started.
Nature
Add a bit of nature to your table decorating by walking your yard or the park and gathering logs, sticks, pine cones and leaves to create a table that is unique and low cost. Try evergreen leaves or large magnolia leaves to add a sense of drama to the table. Maybe you have herbs in your yard like rosemary or thyme.  Adding these to the table can bring a beautiful herb induced scent and a green element that might not exist this time of year. Try addingcandles between the pieces to add an elegance, but be careful with the flames. The last thing you want to do is create a fire during the start of the holiday season.
Leftovers
Halloween may not be that far off.  If you have pumpkins or leftover candy, create your very own decorating leveraging your Halloween leftovers. Pumpkins are in season all fall and with their vibrant orange and white colors, they can help make a table stand out. Even if you decide you want to paint them for a personal experience or one that reflect the current holiday. Try adding small flower bouquets to add some finishing touches to the table with your leftovers.  If candy is your thing, use candy in the bottom of vases or containers to display on your table. After dinner, you have some fun dessert or add some small bags for everyone to take a few bites of candy home with your favorite what to do with leftover candy recipes.
Harvest
Using fruits and vegetables like artichokes, pears, apples, oranges and more, you can create a breathtaking tablescape for your holiday. Using nuts of all kinds in their shells and whole spices can add character the table but also provide an aroma that will only further enhance the meal. Remember that long cinnamon sticks can add another effect to your table and also provide a great aroma.  Corn is a mainstay of Thanksgiving and adding corn kernels or popped corn to the table decorating will remind us of the very beginning of our Thanksgiving traditions.
Dressing
Maybe your table needs the room for all the food you are able to serve to your guests and adding centerpieces might be tough to navigate. There are still lots of opportunities to have fun with your table. Try burlap as a runner or table cloth, adding ribbons around the center of the table or pinning them or threading them to the burlap for a hit of color to the table. Even using brown paper to cover the table and create name areas for your guests while giving them crayons to create some beautiful art while sitting for dinner. Even adding a thought provoking or engaging question to each person's seat written on the brown paper can add some interesting table discussions to Thanksgiving.
For more Thanksgiving table inspiration visit our Pinterest page.