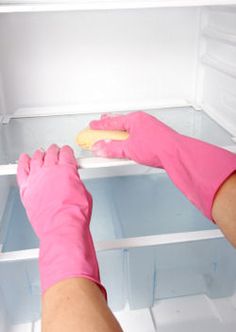 Just in time for one of the biggest food holiday, November 15 is National Clean your Fridge Day. With Thanksgiving around the corner and the need for room in your refrigerator, what a great activity for the whole family to help in cleaning out your refrigerator this weekend.
Remove Everything
Start by removing everything from your refrigerator by placing it on your counters or out of the way. Once you have everything out of your refrigerator, wipe down your shelves, walls, and doors with soap and water.  If you can remove your vegetable and fruit drawers, pull them out and clean them in your sink with soap and water. Make sure your drawers are dry before putting them back in your refrigerator.
Check Expiration Dates
Clean our fridge day also includes a review your condiments by checking expiration dates and discarding what is old.  For any wilted or limp vegetables, it is time to throw them out also. Maybe your have a science project growing in one of your containers from leftovers that were forgotten. It is time to send that experiment to the trash. Seriously review your leftovers, if no one in your family will eat them, it is time to move on. If you have some foods that you know will take a long time to consume, see if you can freeze some of these foods.
Put it Back After Discarding the Old
Once the cleaning tasks are complete, time to add all the food back into the refrigerator and add a small container of baking soda to keep a fresh and odor free refrigerator.
Now that your refrigerator is spic and span, now you can make room for all the leftovers and goodies from your Thanksgiving feast. Celebrate National Clean Your Fridge Day with a clean fridge and a healthy set of foods to get you going.