If you've got the space, and even a little bit of a view, turning the porch into an outdoor sitting room is a great way to add square footage and real value. The synthetic materials available today bring all the rustic, relaxing charm of wicker, but are much stronger and more durable. Using your new front door, add complementary elements of color in the form of outdoor throw pillows. Don't forget an end or coffee table, if space allows for your morning coffee or afternoon iced tea.
Make Those Numbers Count
In the old days, people named their homes, but these days the post office requires something a little more specific. That doesn't mean you should settle for a stenciled paint job on the front curb. Think of your house numbers as an official introduction to the house. Find numbers that not only complement the architecture and the style you're going for, but the personality of the house and its inhabitants, as well. Don't be afraid to go big-it shows personality and has the benefit of being helpful to anyone trying to find you.
'Tis (Always) the Season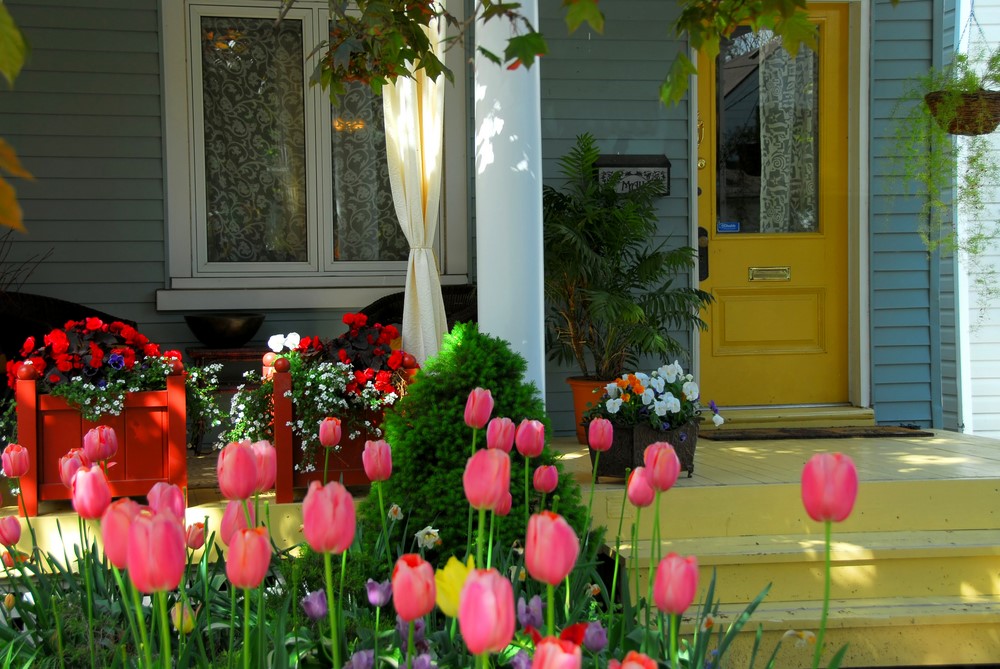 Finally, keep your entry looking fresh and cared for by adding seasonal elements that get changed out every few months. Think: simple pumpkins and gourds after Halloween, a holiday wreath or a bright bank of tulips to get springing into summer.
As you can see, a mini makeover for your home's entry is a very DIY and budget-friendly project that you'll feel proud of every time you come home. These are just some of our favorites-what are your favorite front porch upgrades?
Award-winning California interior designer Kerrie Kelly provides tips on home exterior entryways, including porches and front doors, for Home Depot. Kerrie is the author of Home Decor: A Sunset Design Guide. You can view a collection of exterior entry doors available online at Home Depot here.