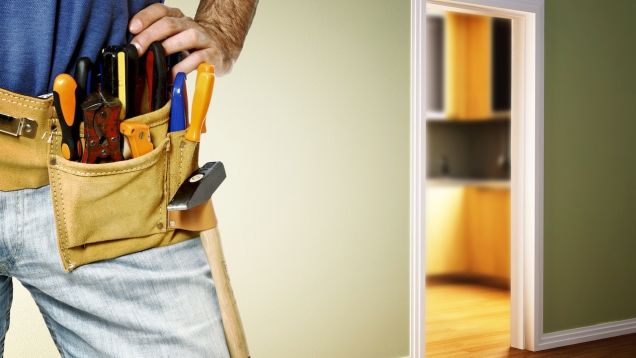 Your patience and ingenuity with that funky self-assembly bookcase was, by all accounts, astonishing. People were talking about it for days afterward, and the bookcase in question is still standing.
But now you have another major project — one that doesn't come flat-packed and requires tools you didn't even know existed. You need a handyman…or handyperson.
Unfortunately, hiring a handyman to attack your walls with a power drill is pretty risky. You don't want to spend half your life trying to explain why the door should open the other way or invest a small fortune correcting the mistake.
To avoid beginning a long and painful relationship with a second-rate handyman, use this guide to help you find the perfect person for the job.
Step 1: The Search
Finding a handyman isn't as simple as flipping through the phonebook and calling the first person listed. You're inviting someone into your home and asking him to make major repairs, so you need someone you can trust. Here are a few helpful resources:
> Friends and family. The best way to ensure you're getting a reliable handyman is to follow the recommendations of people you trust. Get in touch with friends or family members who have recently had work done, and ask whom they hired and what their experience was like.
> Bulletin boards. Notice boards outside churches, the local chamber of commerce, and other public places can be great sources for finding professional handymen in your community. Once you find a few good candidates, ask around to find out who does the best work.
> Online. Websites like Angie's List and HomeAdvisor are perfect for harnessing the wisdom of the crowd to find quality handymen. Along with a list of contractors and contact information, you can investigate references from previous customers and browse reviews of his skills.
Step 2: The Hire
Doing business with someone new can be intimidating — especially if you've never worked with a handyman before. Here are a few pointers to ensure you get a fair deal:
> Have a predetermined budget. Set a budget for the work, and be firm with yourself about not overspending. This will narrow your search to the most affordable options for your task.
> Explain specifics. It's your responsibility to create a thorough brief for your project and let the potential contractor know exactly what he would be dealing with if hired.
> Get multiple quotes. Interview several contractors with the specific skill set you need, and check out their previous projects. One contractor may be a little cheaper, but if another has a passion for your type of project, he'll be less likely to leave it half done.
> Get itemized quotes. If possible, request quotes that are itemized according to each task you need the contractor to perform. If you are buying the products that need to be installed, you should know his hourly or daily rate to make sure the cost of the work won't exceed your budget.
> Check for insurance and licensing. Keep in mind that there are some projects your average handyman may not be able to perform (such as rewiring your home). Specialized trades require a license, and each state has specific requirements. If you're hiring a regular handyman, make sure the person you hire has contractors insurance. Otherwise, you could be held responsible for any injuries he sustains.
Step 3: The Job
Once you find the perfect man for the job, you aren't done yet. You still need to get your ducks in a row to ensure the project meets your expectations.
> Get a contract. To protect yourself (and your property) from mistakes and set expectations with your contractor, the contractor is likely to have a contract or you can draw up a contract detailing every aspect of the project. Include conditions for if things go wrong so you don't get any nasty surprises. For example, include details about requesting permission by your contractor for any work above the scope of the contract or for any unforeseen situations.
> Set up a review date. By setting a date to review the project about three to six months after completion, the handyman is more likely to treat the work with care. If he seems uninterested in setting up a review, he might not be the quality craftsman you're looking for.
> Document and photograph. You might feel a little bit like a detective photographing the scene, but taking some photos before, during, and after the project is done will offer some protection against unreliable handymen and show you the before, during and after of your project experience and contractors skill.
Hiring a handyman can be a bit overwhelming, but there are plenty of committed and reliable ones out there who do great work. To find those true craftsmen, you should hire carefully and set very clear expectations. That way, when the work is complete, you'll be able to show off your home with pride.
For more posts like this one, check out these: 
Home Maintenance Help: Tips on Finding a Good Handyman
5 Reasons Why Home Maintenance Matters So Much