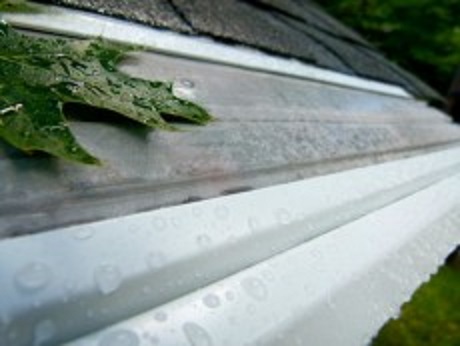 Guest Blogger: Tom Kahn
Gutters are an often overlooked aspect of how the exterior of your home functions. Gutters protect your asphalt, cement, and (most importantly) your foundation from water damage and deterioration. Gutters also whisk water away from your property, protecting your landscape from water erosion and other types of damage. Gutters are an essential aspect of your exterior, yet in all likelihood, you neglect maintaining your gutters.
Gutters should be cleaned out at least once each year (typically in the spring) in order to get rid of leaves, tree branches, and other debris that may be lodged in your gutters. If your gutters become too clogged, you risk ruining your gutters or damaging your roof. If you are like many busy homeowners out there, you see cleaning your gutters as problematic. Not only is it hard to remember to clean out your gutters, but it is inconvenient and dangerous. So what is the solution? Gutter guards.
How Gutter Guards Work
Gutter guards are the perfect solution for any busy homeowner who feels trepidation about cleaning and maintaining gutters.  They prevent debris from entering your gutters, which means there is no need for you to climb onto your roof once or twice each year just to clean out debris. Gutter guards are angled so that leaves and other debris will simply slide off of your roof and onto the ground, making for a much easier cleanup than without gutter guards.
Water is still able to be collected by your gutters and diverted safely away from your foundation. Because gutter guards are installed directly over your existing gutters, there is no need to purchase a whole new gutter system. In addition, gutter guards are made of stainless steel, so you know the product you are investing in will last for as long as you own your home.
How Gutter Guards Protect Your Home
Gutter guards protect your home from water damage that occurs when debris builds up in your gutters. When leaves and other debris clog your gutters and a serious storm comes along, your gutters are unavailable to direct the water flow safely away from your roof and foundation. Water can pool up on your roof, which may cause serious damage over time.
In addition, pooling water near the foundation of your home can cause cracking and other serious structural damage. If you are tired of cleaning out your gutters and are worried about poor water drainage from your roof as a result, gutter guards are the solution you are looking for.
If you live in an area where extreme winter weather is common, your roof is even more susceptible to water damage from blocked gutters. If water is trapped in your gutters and cannot be diverted onto the ground, the water may be forced toward your roof and even under your shingles when it freezes. This can cause serious structural damage. If you live in an area with a lot of trees or extreme weather, gutter guards are a worthwhile investment for your property.
About Author: Tom Kahn has been in the construction and remodeling business for over 40 years, with 30 years of gutter expertise. He started Mastershield Gutter Protection VA/DC/MD over 5 years ago as a family run business with his son. Together they run the premium gutter company in the DC metro area.