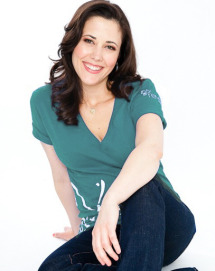 This week HomeZada was lucky enough to chat with the perpetually busy Star Hansen. Star is a Bay Area-based Lifestyle Organizer and TV host who's appeared on OWN, TLC, HGTV, Style, A&E and the Tyra Banks Show.
In our Q&A, Star shares her advice for getting organized, common challenges people face, the things she can't live without and more. Check out our conversation below and get inspired to make changes to your own spaces.
HomeZada: What inspires you?
Star Hansen: The thing that inspires me the most is seeing people live their genius. Everyone is a genius at something and when we tap into that, our lives are so much more purpose-filled, enriching and joyful. If people's home environments reflect their genius it can be one of the most beautiful & inspiring things in the world.
HZ: What is the first thing you notice when you walk into a home?
Star: The first thing I notice when I walk into a home is the owner's personality and interests. I'm known as the "clutter whisperer" and can tell just by looking at someone's home what is going well or poorly in their life. But what I first see is the heart of the homeowner shining through.
HZ: What is the first thing you would tell someone who is looking to become more organized?
Star: Know your goals for your space. People often start organizing with the goal of "getting organized."  However, the best thing you can do is to know what you want to use the space for & how you want to feel in it. Once you set those intentions, it becomes a lot easier to see how and where the items you are organizing fit in with your vision.
HZ: What do you think is the most common organizing project that people seek help for? Why?
Star: The most common organizing project people seek help for is overcoming overwhelm. The physical spaces of the rooms vary. But they almost always have the same feeling of overwhelm involved. This can sometimes happen when we get a little lost in our own minds about what is going on in a space. We may be organizing our linen closet, but if it's full of a deceased loved one's linens. We may actually be on more of an emotional roller coaster than an organizing quest. From that space, it can be very hard to make grounded decisions. And a little bit of outside help can do wonders for our sanity and spaces.
HZ: What's a common challenge that many people have when trying to get organized?
Star: The most common challenge people have when trying to get organized is not saying "Yes" to their own intuition & needs. So often people do what they think they "should" do, or what most people do. This one-size-fits-all way of getting organized isn't effective for most people.
HZ: Any specific websites you spend a lot of time on (besides your own)?
Star: I absolutely love Pinterest, Houzz & Google. I love researching fun new ways to make space work for me. It's incredible to live at this time in history when we can so easily collaborate & share great ideas. It feels like the whole world is inspiring each other all the time!
HZ: What's one thing in your home you couldn't live without and why?
Star: The one thing I can't live without in my own home is space to dance. I love having the center of my rooms clear & empty so that I can have an impromptu dance party anytime I want.
For more information on Star Hansen and her boutique organizing firm Reveal, check out www.RevealByStar.com.