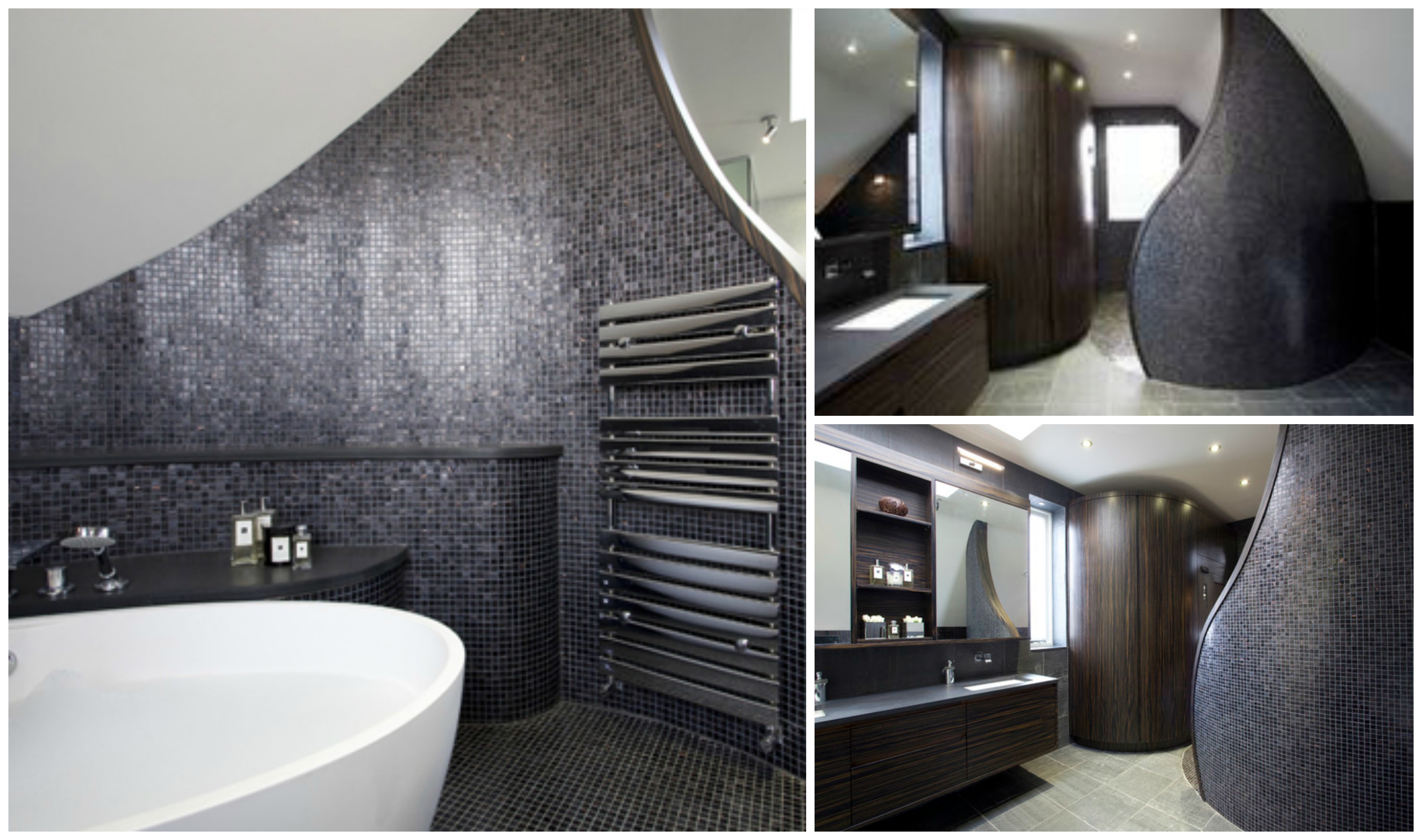 Guest Blogger: Derek Lotts
There are practically dozens of ways a bathroom can be designed, from simple and strict looking ones to futuristically designed ones as choices and bathroom trends continually change. This time a type of design that is based on curved bathroom elements is going to be discussed, with a focus on every single segment of bathroom that needs to be covered in detail in order to fully implement the initial idea. Therefore, with circles, rounded edges and ovals in mind, with all their varieties, we are ready to go.
Tub and shower cabin
These elements are central pieces of any curved bathroom trends and design. If you opt for a tub, there are two major shapes you can choose from, an oval and a round one. A round one may seem slightly limited compared to the oval tubs in terms of possible curved shapes. However, a simple round tub, with customized depth, though being a centerpiece, still allows equal draw of attention to other elements in the bathroom. So, if you wish your basin to shine as much as a tub, opt for the round one. On the other hand, a curved tub is a sure attention winner, especially if you play with shapes a bit, having areas of different height and width. When shower cabins are concerned, oval shaped ones give a touch of softness and can be used to visually separate the area, allowing you more designing freedom, just like round tubs do. Also, bear in mind that see-through doors will give a sense of additional spaciousness.
Basin
Oval shaped and smooth edged basins come in multitude of designs and you will have no trouble finding one that will match your tub or shower cabin. They do not have to be of same color and the contrast will give dynamics to the bathroom. Make sure that countertop follows the lines and contrast the colors here too. When vanities are concerned, you can go for oval ones too, however, since basin is obviously a good item to make contrasts, vanity can be square or rectangular shaped, it will not take anything from general curved design, it will rather provide emphasis. By having no doors on it you will add spaciousness too.
Tapware
Unfortunately, this is a bathroom element that is often neglected, which is a shame since they can make a world of difference in overall design. Pay special attention finding a proper one that will follow the lines of elements you had already chosen. For example, smooth bends of the dorf tap will elegantly contribute to any oval design of a basin, tub or shower cabin.
Mirror
Mirror is an important element in any bathroom and this is the case with curved designed ones as well. The best effect is achieved by matching the oval shape of a mirror with the oval shape of bathroom windows. Naturally, the dimensions may vary, but it is important that they follow the same shape line. Carefully chosen frame color, contrasting to wall color, gives additional depth to the space and emphasizes the curves.
Lighting
Additional focus to your curved elements will be provided by carefully placed lighting solutions, especially using dimmable led ones that provide soft spread of light. Also, they are successful in hiding the corners of your bathroom, thus giving the oval shape to the entire room as well. It is convenient that lights can be found in infinite number of oval shapes so you will have no trouble finding suitable ones.
Accessories
Once again, attention needs to be paid to all elements equally, since it is the general appearance that matters in the end. Also, a centerpiece needs to be carefully chosen since it influences all other elements and shape contrasts are allowed, as long as they provide emphasis to curved design. Good luck and enjoy the curves of your new bathroom.
About Author: Derek Lotts writes about décor, gardening and recycling. He thinks all these fall under self-improvement. He believes in the power of sharing ideas and communicating via the internet to achieve betterment. He blogs regularly at Smoothdecorator. In his free time, he likes spending time in nature with his wife.