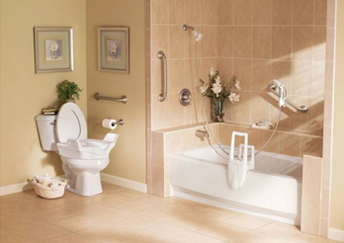 Discussions surround aging in place have been topics recently that are presenting themselves to HomeZada. These discussions are surrounding the use of HomeZada to track projects that could update a home and make it more usable. Being usable to help clients maintain their homes and to document the items in the home for estate planning.  All of these tasks are possible in HomeZada, but let's talk about what are the needs of a home that can support people as they continue to go up in age.
Entryways
When entering a home, it has to be easy for our bodies. If ramps are necessary for walkers or wheelchairs or railings are necessary for climbing steps either in the front or back yard or from the garage, they will need to be added for safety precautions and ease of entry into the home. Lights are also important when entering and exiting a home. Without the proper lighting, anyone could miss a step and hurt themselves. So adding lighting overhead and around the steps is helpful. If these lights are motion sensored, this makes is easy for anyone entering at night to see where they are going immediately.
For safety precautions, new door bells with camera feeds to alert homeowners of who is at the door from other rooms in the home is another option to ensure visibility.
Doorways 
Some doorways may need to be expanded to accommodate motorized chairs or wheelchairs. Expanding doorways would require some construction and can be done by a professional. Along with expanding doorways, changing our door handles that may be easier to operate like lever handles versus turn or rotating door knobs could ease the burden of entering and exiting rooms.
Kitchens
Kitchens are tricky, but they are often the life blood of most homes. Making sure counters are suitable to the size of the individual living in the home is step one. We often shrink in size and may need to lower our counters or at least have lowering and raising counters to help manage the cooking and preparation in the kitchen. Chopping and cutting on counters that are too high can cause back damage.
Lower cabinets can be updated with pull out trays to make easy to access cooking supplies. Also reducing the number of upper cabinets may help to retrieve items for dinner. Instead, try adding a floor cabinet or shelf for easy access to dishware.
Another good idea is side by side refrigerator freezer combination to help get to items easily. And keep a microwave a counter level so it is easier to move contents in and out of the microwave easily and safely. Adding counter seating can also help with preparation work allowing the cook to sit while cutting vegetables and the like.
Bathrooms
Bathrooms get a little tricky because a lot of water is usually involved. It is important to have non slip rugs in the bathroom for those exiting a shower or tub. If it is becoming increasingly risky to cross over the tub, then changing out the tub with one that is a walk in tub rather than a climb over tub will protect against any falls. Railings are also a great addition to bathrooms. Adding railings near tubs, in showers and near toilets become valuable to gain help in getting up.
Adding or converting a counter into a seated area to apply makeup or style hair can also help support the health of the homeowner.
Lighting 
Lighting is important throughout the home. Adequate lighting can prevent falls. So whether windows are changed out to increase their size for more natural light or more lighting is added throughout the home, both will be advantageous and provide more visibility. More lighting means less falls, less bumping into furniture or walls, and less tripping over carpets or thresholds around the home.
Adding lights on timers is a great idea for homeowners so that they do not need to trip to find a light switch, so using smart home technology can come in handy when it comes to avoiding hurting oneself.
Low Maintenance 
Changing out areas in the home that are lower maintenance can reduce the work necessary for those that have trouble getting to these areas. Like using a tank less water heater which does not need to be flushed once per year like a water based hot water heater or adding covers or gutter guards to eliminate the need for climbing a ladder and cleaning the gutters. Adding more energy efficient appliances can also help with ease of maintenance and also energy savings on bills.
And if all else fails, try scheduling regular maintenance checks with a handyman or a series of professionals.
Managing a home to adjust to our age and our bodies as we age is important to have a healthy, risk free home. These are just a few tips to modify your home to meet the needs of our age.