The many decorations that showcase Christmas often underscores the limited decorations that are dedicated to the Jewish celebration of rebirth, Hanukkah. Both Christmas and Hanukkah have a standout centerpiece in the menorah and the Christmas tree. The centerpiece of the menorah provides tradition and elegance to a decorations past down from generation to generation. Many of the Hanukkah decorations found in the marketplace are blue and silver but any color will work to showcase a beautiful celebration.
Menorah
Showcasing a menorah on a side table with easy access for lighting each candle each night is beautiful way to share the glory of God with the family. Adding other decorations to the table to highlight the event like glass containers filled with bulbs or crystals would make a sparkling back drop. Adding wrapped gifts on silver trays will add a beautiful sense of celebration to the table.
If a table is not available and a mantle is. Using the mantle to hold the menorah and then to have draped signs or dreidels along the mantle to add a festive look to the home during this holiday season.
Tables
When it is time for the festive holiday meals, using themed linens and additional candles on the table will give an illuminating effect on the meal. Adding fresh flowers or silver and gold serving dishes can also help dress up a glorious meal. Or add gelt or coins to the table for an added surprise to diners. These little coins can be found in chocolate form for a quick dessert treat.
For more decorating ideas, look at these amazing photos ow found to help with inspiration.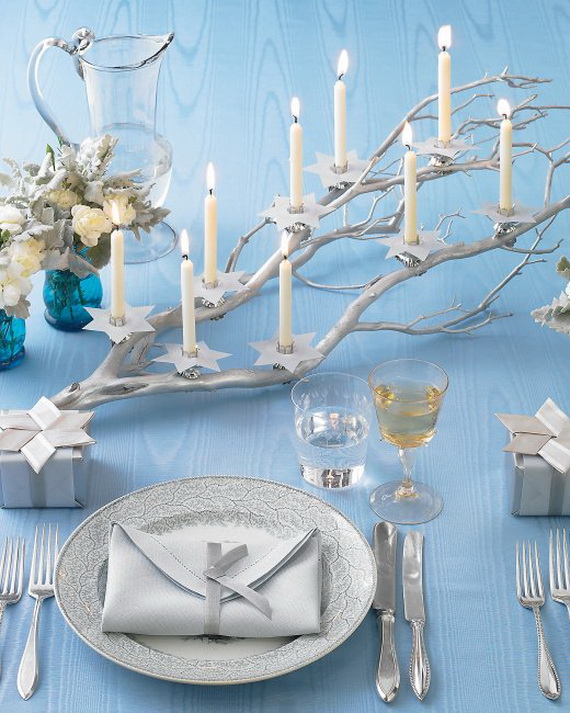 To all our friends and followers who celebrate Hanukkah, we wish you a very blessed season.