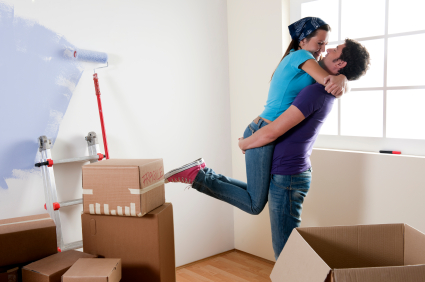 Painting a room, a hallway or a whole house can be a fun a project that can give a refresh to the space or change the design with a completely different color. Painting is a low cost and simple approach to redesigning or remodeling a space. There are simple tasks that you will need to perform prior to painting a space. These tips will help you understand what you need to do prior to pick out your color.
Keep Away from Walls
To get started on your paining activities, you will need to move all the furniture away from the walls. And you will need to cover the furniture to protect it from splatter. Removing all the paintings, prints, photos and all wall art from your walls will also make it easy to get your home painted uniformly. So now is time to remove all the items from around or on your walls.
Prep Your Space
In addition to moving items away and off walls, you will need to buy some painters tape and cover areas that you do not want painted. If you have trim around windows that you do not want to paint, then using painters tape to mark off the area will make it easier to get paint the area without damaging other areas of the space. You will also need to patch areas of the room that you want to paint. If there is a nick in the wall, add some wall putty. You can find wall repair kits at your local hardware store. Remember to also remove switch plates and doorknobs and other wall mounted light fixtures or at least cover them with painter's tape.
Cover the Floor
In addition to all these tasks, you will need to cover your floor before painting. Using painters tape to protect baseboards is important. But protecting your floors is also important and using old rugs or rags or drop clothes to protect your floor will be important. You can also use rolls of paper, but be careful that the paint cannot get through the paper and stain your rugs or wood floors. You may want to tape down your drop clothes to keep them from moving and the risk of paint splatter damaging your floors.
Primer
If you are changing the color of your walls, you may need to use a primer prior to painting the walls. Some paints have primers mixed in with the paint. This type of paint will take the place of the primer step. But if you are changing from a dark to a bright or lighter color, you will more likely need to primer your space first.
Choosing A Color
When choosing a color for painting, make sure you review the sheen of the paint color. Different sheen may appear different on the walls and give the room a look that you may not want. Also some sheen hold up to different activity in a home. Gloss and satin paint holds up better to little hands on walls and can be cleaned easily. A matte finish or flat paint finish will not show off imperfections as easily but they are more difficult to clean.
Test the Color
There is a reason many paint companies offer samples. It is easier to test a color in your space by painting a small section rather than painting the entire space only to realize you hated the color. This will also save you money. Because you will not have to buy gallons of paint that you do not need. You can also use paint test paper on walls without painting the walls themselves.
Embrace Technology
Using online systems or apps to test a color in your room is a great idea. Especially if you are unsure and want to try something drastic. Many companies like Sherwin Willams and others have apps that allow you to take a picture of your space and play with colors in the room. This is a fun step to prep with to test a color in your space.
Measure
This is very important when painting a space. Measure the space and measure it again to confirm the size of the walls and areas that need to be painted. This will give you the numbers you need to figure out how many gallons of paint you need for your space.
Invest in Tools
It is best to use good tools to paint a space that is important to you. Investing in rollers, good paint brushes, and containers will be important when you get started on your painting. Rollers are very effective and can get a room painted swiftly. However, brushes are needed for nooks and crannies where a large roller cannot reach. Use extension poles for ceilings and other areas that you may have trouble reaching.
Open Windows
Breathing in paint fumes is not healthy. So when you are painting, opening some windows will help keep fresh air in the home. Opening windows will also allow the paint fumes to escape the area. Keeping you breathing a bit more air will help with long term health. Wearing a mask will also help manage the fumes.
With these tips, you can get all that you need done in order to get your painting project underway. Remodeling and design projects like painting can add a refreshed look to a home. And can also help with resell of home.