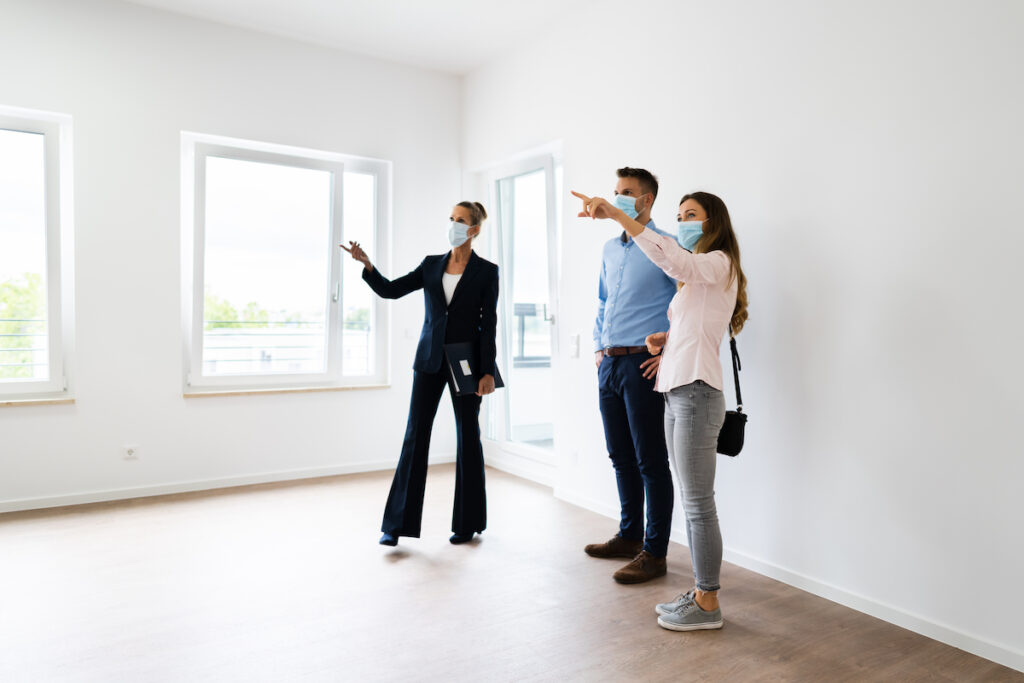 You've already found the right real estate agent and done all the prep work to sell your home . Now, it's time to actually get it on the market. But this step can look a little different when it's in the middle of a pandemic.
COVID-19 has added some challenges to the real estate market — particularly when it comes to selling your home. Social distancing and other measures have changed the way home sellers and buyers do business for the foreseeable future. The good news is that solutions to these issues have already been devised, and many agents have been using them since long before the pandemic.
Here, we'll provide tips to sell your home safely during the pandemic for a quick sale so you can take your net proceeds and get back to your life.
Virtual tours
Real estate agents are seeing smaller crowds at in-person open houses, and some are completely opting out of open houses altogether. Instead, savvy sellers and agents use virtual tours to give buyers an idea of the layout and feel of the home. Many tech-savvy agents have been doing virtual tours and walk-throughs for years.
Then, if the buyer is considering making an offer, they may make an appointment for an individual in-person showing. Virtual tours can help you weed out those who aren't serious about buying the home and translate to less foot traffic in your home.
Other cutting-edge technology can also help sell your home during the time of COVID-19, such as virtual reality, drone footage, or 3D 360-degree tours that show buyers high-res, immersive visualizations.
Safe in-person tours
If potential buyers have viewed the virtual tour and are still very interested, it's likely they will still want to see the home in person before making an offer. Other sellers may prioritize in-person tours to buyers who have already been pre-approved for a home loan.
Either way, in-person tours are still necessary when selling your home, even during the pandemic. The National Association of Realtors (NAR) provides some really useful guidance on how to conduct in-person showings during these times. Some of these tactics include encouraging social distancing by limiting the number of those who can tour your home at one time; opting for appointments rather than open houses; and supplying hand sanitizer, masks, and gloves at the front door. You may even opt to bring in extra air-purifying systems.
Thorough cleaning
Whether you hire a cleaner or do it yourself, it's important to sanitize any high-touch areas such as door knobs, bannisters, and front entry tables between visitors. Although you may not need to sanitize absolutely every area, hitting these spaces that are breeding grounds for germs can help protect you and your buyer from the virus.
Access for professionals
You'll also need to consider how you give access to your home to real estate professionals such as home inspectors and appraisers. Many inspectors are now used to wearing gloves and a mask while inside a client's home, and you can plan to be away or in a different area of the home to ensure social distancing.
Some appraisers are even offering drive-by services so they won't need to enter your home, but this offering depends highly on the lender the buyer uses. Otherwise, use the same tactics you do with the inspector to stay as safe as possible.
Remote closing
Many states have officially passed legislation for remote closings, which lets lenders, title companies and others perform legal transactions remotely. This means they can notarize signatures virtually with the aid of video and audio technology. Another option is to use a mobile notary who would visit you and the buyer and their respective homes to avoid traveling to an office.
You can also use digital means to pay for your seller closing costs to avoid trips to the bank.
Safely sell during COVID-19
Although the coronavirus pandemic has certainly added some challenges to selling your home, the real estate industry has adapted quickly with solutions — many of which are easy to implement. Work closely with your agent, and you have no need to worry when selling your home during the pandemic.