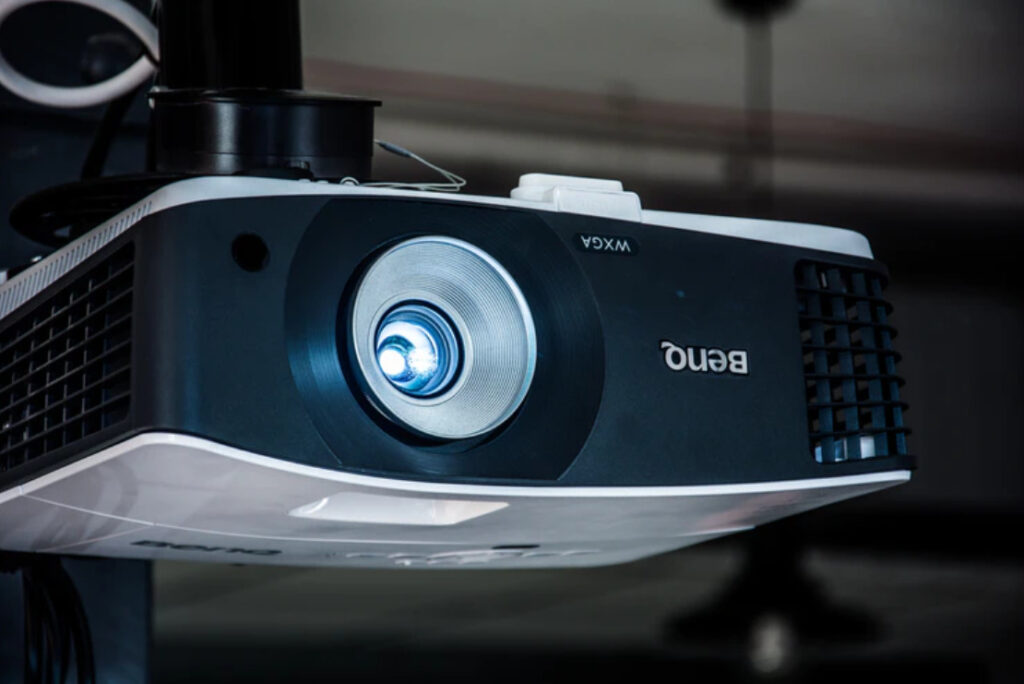 One of the best ways to enjoy the thrill of the big screen at home is to create a projector based home theater system.
While it's not difficult to do, there's a lot more thought that goes into it on the front end before you install it.
Some things you need to consider before installing your projector include:
Take a look at the space you have
Two important considerations are where you're placing the screen and where you're placing the projector itself.
Unlike a TV screen, you really need to think about the light that comes into the room. Window light and permanent light fixtures can impact the brightness and the sharpness of your picture.
Second, consider the fact that you have several image sizes you can choose, depending on where you set the lamp and the distance between the screen and the lamp.
You can have a projection that's the smallest 30 inches to 3300 inches. The bigger the screen, the more distance you'll need between the lamp and the screen.
And the bigger the screen, the more susceptible the image will be to any immovable light pollution coming in through a doorway or window.
If you are putting a large screen in a narrow space, you're probably going to have to spend a little more money on a short throw projector.
Also, think about where you're going to sit.
You want the light beam from the projector to reach the screen with no interference. Think about the last time you went to the movie theater and that annoying person in front of you. You know, the tall one with a hat that obstructed your view the movie screen!
Next choose the right screen
While you can project the image on the wall or a white sheet, most consumers prefer to use a high-quality screen for the best image.
Not every house has a large, completely blank white wall, so an adjustable screen is a better choice in most cases.
Quality screens are designed specifically to heighten contrast a/k/a improve image quality. This can help if you have a lot of ambient light or other constraints to a good image.
Sometimes, you can even find screens with micro perforations that will let you put speakers behind the screen so that you can create a rich theater surround sound.
Think about how you'll get your content
How do you like to watch movies and shows?
Do you use a streaming stick, a gaming console, or set-top box? All of these can be acquired through a standard HDMI input.
Most, if not all home theater projectors offer VGA, MHL or wireless streaming so check to see if the unit you are interested in has that if this is something you need.
Sound
Projectors really don't have the same output that a regular or even a regular TV has so you may need external speakers for your home theater setup.
If you don't already have external speakers, look for ones with at least a 3.5 mm audio out or an extra HDMI port where a wireless adapter can connect your speakers via Bluetooth.
What's your budget?
Finally, make a list of everything you need to create the home theater that suits your needs and your budget.
Shop around and get the best price for each of the components you need.
At the minimum you'll need the projector obviously and a screen.
There are budget models available for around a hundred bucks, or you can go up to 4K ultra that will set you back $2,000 or more.
Typically 1080p resolution – which is just shy of true 4K – will set you back anywhere from $500 to $1,000. This option should suit most household needs just fine.
In most homes, a white screen that's around 120 to 150 inches should be ideal, and you can find a good one for anywhere between $50 to $100.
For extra features such as a high contrast screen or behind screen speakers, you're going to pay a little bit more, if the TV speakers you've been listening to are just fine for you, shop for a simple 2.1 surround sound system. For example, two bookshelf speakers and one subwoofer; you can find good ones for around $50.
Finally, don't forget those things like ceiling mounts and cables, most ceiling mounts are around $50 dollars or less. If you can install it yourself you can really save, if not, include the cost of outsourcing the job to a professional in your budget. 
10 Questions To Ask When Planning A Home Theater
10 Home Game Room Ideas You'll Love