What crafter hasn't purchased something – or perhaps a lot of "somethings" – that they already had, just because their craft area was spread across several different closets and/or under the bed in those ugly plastic storage totes?
Or is that just me?
Thankfully, you don't have to set aside an entire room to have a place for your favorite crafts…sometimes a table and some way to store your materials is all you need.
Check out these beautiful craft tables that will inspire you to design your own special place for your creative endeavors.
1. Tabletop craft table
Blogger Ana White designed this craft table which consists of the top of a table secured to the top of a pair of bookshelves.
2. Large craft table
Just like the previous table, this craft table consists of a table top placed over the top of bookshelves, however it is much larger, with three rather than two bookshelves.
3. Portable craft table
Small and portable…if you're short on space this craft table can be pulled out for use, then tucked back in its corner until you're ready to use it again.
And the best part? It's an IKEA hack so you're not starting from scratch. Brilliant!
4. Collapsible craft table
Organize Your Stuff Now blogger Leanne combined Walmart bookcases, an IKEA table top and liquid nails to create an inexpensive craft table for about $55 bucks!
5. Sawhorse craft table
Homedit blogger Erin created this simple craft table in about an hour, using an IKEA tabletop and Home Depot unfinished sawhorses. Here's how she did it.
6. Kids craft table
If your kids are avid crafters (and to keep them out of your pricey supplied) why not create a space for their artistic endeavors? Here's how Handmade Charlotte blogger Rachel created this craft table for less than $50 bucks!
7. Foldable craft table
Even if you only have a tiny space, it is possible to have a craft table. Check out this detailed tutorial for a custom made foldable craft table by Betty, a blogger at Remodelaholic.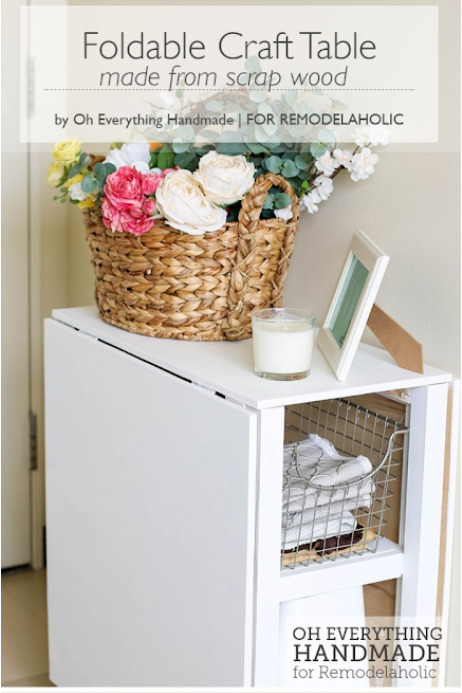 8. Island Kitchen Craft Table
Want an even faster DIY option? After her college bound son leaves the house, Regina used an IKEA kitchen island as a craft table when she turned her son's old bedroom into a dream craft room.
9. DIY Craft Table
Barbara Miller of Yes Spaces shares how she put together this unique table for less than $200. The storage and seating area make this a perfect craft table…and it can be made in an afternoon!
10. Repurposed Furniture
Finally, if you'd rather not go out and buy something new, why not repurpose something old?
This old dresser was turned into a workbench with storage for a garage, but the same concept could apply to storage and a workspace for your craft table.
You could add casters to make it easy to roll and can easily make the top shelf large enough for a space to pull up one or more seats, depending on your needs.
It you like this post, you may also like these:
How to Make Money by Upcycling Furniture
New Uses for Recycled Furniture