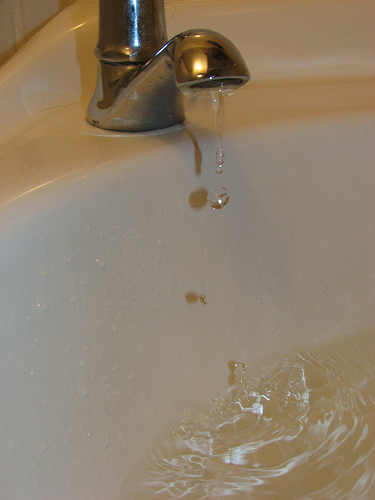 Homeowner insurance companies will tell you that water is the number one cause of leaks in homes. The leaks can come from a split line in your washing machine, water heater, a burst pipe, a broken pipe or supply line under your sink, a clogged toilet, sewage back up from the mainline, leaky roof, and outside cracks on your home or foundation.
Insurance companies typically cover accidental water damage but not gradual water damage when pipes and plumbing start to deteriorate. Gradual damage is generally caused by neglect of maintenance, such as a leaky faucet that went unrepaired.
Do not procrastinate any longer. Here are some easy steps to prevent water leak disasters from happening in your home.
Place a reminder in your calendar to conduct a homeowner twice a year plumbing inspection; we recommend Spring and Fall. Then every two years, hire a professional plumber to check your whole home plumbing system. They can identify hard to find issues using a camera. They also check for leaking drain lines/valves under the house and corrosion. Test the water pressure, shut off valves, and make sure the home is up to code. At the same time, consider scheduling a sewer camera inspection to address any root or massive scaled buildup issues in the line that can cause water overflow in your bathrooms.
Homeowners Plumbing Inspection Checklist:
1.TEST FOR LEAKS
Test for leaks in your home using your water meter by performing a simple leak check with the following steps.
Ensure all faucets, appliances, and water valves turned off inside and outside the home except for the mains. Make sure no automatic water is being used, such as irrigation controllers, clothes washers, dishwashers, etc.
Record the reading of the water meter and wait one hour. Make sure no one uses any water during this time.
Re-record the reading of the meter. If the meter has recorded water use during the test, it might be due to a leak. Verify that the water leak is not coming from a water filtering or softener system or a whole-house humidifier. If not, contact a professional plumber for further investigation.
2. WASHING MACHINE
Examine the hoses connecting your washing machine to the water supply. If you see cracking or corrosion, replace the hoses with a braided hose rather than a rubber one.
3. WATER HEATER
Inspect the water heater valve and pipelines for corrosion or small leaks. If your water heater is over 15 years old, you may want to consider replacing it.
4. KITCHEN APPLIANCES
Inspect the floor around your refrigerator and dishwasher for any water or moisture. Check the connections to your appliances, including the ice maker, to make sure they are tight and check for cracks in the lines or valve corrosion.
Under the sink, examine the cabinet base for leaks, stains, mildew, warping, or peeling.
Inspect the faucet if it is loose or losing pressure; this may mean the faucet has a worn seal and may need repair or replacement.
5. BATHROOM
Inspect caulking around the tub/shower, shower doors, toilet bases, and sinks. If any spots are dried out, missing, or otherwise iffy, thoroughly remove the old caulk and replace it with some fresh silicone.
Without using too much force, try to move or rock your toilets. If there is movement, check the mounting bolts at the base. If these are tight, the flange may need replacement.
Remove the tank lids off your toilets and peek inside. Check for any obvious signs of wear or damage. Reach in and feel the flapper: these and other rubbery parts have a habit of rapidly deteriorating in highly chlorinated water.
Replace the water shutoff valve behind the toilet every 5-7 years. Shut off valves do not get regular use and can wear over time due to high water pressure and burst.
If drains are gurgling and draining slowly, try using a mixture of vinegar and baking soda. If that does not work, call a professional.
Under the sink, examine the cabinet floor for leaks, stains, mildew, warping, or peeling.
Check faucet aerators and showerheads for calcium/lime deposits:
Submerge the showerheads in vinegar for 2-3 hours.
Use a toothbrush in soapy water or vinegar and clean faucet aerators.
6. GUTTERS
Clean the gutters in the spring and fall to prevent clogged drains and water overflow.
7. WINDOWS
Inspect windows and flashing that they properly seal.
Check if weather stripping needs replacing. Weatherstripping is essential in stopping external rain/moisture from penetrating through window openings.
Harsh summer weather can cause caulking around your windows to crack. Suppose you see this happening, apply a caulk softener two hours before removing the old caulking with a putty knife. Then use a new polyurethane caulking to replace it. If you have flashing around your windows, check to make sure there is caulking between the window, flashing, and roof.
We recommend a reputable licensed roofing company to maintain the rooftop on an annual basis before the rainy season. The roofing company should check if any shingles are cracked or curled up on the edges and look for loose nails. Check for mold or algae. Make sure all areas are waterproofed and sealed up. Replace caulking or mortar around a chimney, electrical boxes, and plumbing. Observe the frayed or cracking conduit that needs replacing.
8. ROOF
Remove twigs and branches off the roof during your twice a year inspection. If left on the roof, they will cause damage and decay on the shingle. Also, trim back tree branches away from the house twice a year.
9. WI-FI WATER LEAK DETECTION SYSTEM OPTION
Another great addition to water leak prevention and peace of mind are the Wi-Fi enabled automatic water leak detection systems with/without shutoff devices. According to the Insurance Information Institute, a homeowner is 93 percent less likely to sustain a severe and costly water loss with an automatic water shutoff device. Click on this link for a list of the Best Water leak Detector Systems by Consumer Reports.
Some homeowner insurance companies offer a significant discount on insurance premiums if you install an automatic water shutoff device or water leak detection system with a shutoff. Check with your insurance company to see what deals they might offer.
Note: If any repairs are beyond what you feel comfortable fixing, keep a running list after your inspection for a professional plumber. For more extensive water leaks, call a professional restoration company that specializes in remediation. They will reduce the possibility of hazardous and expensive mold and mildew losses. And remember, never run your dishwasher and washing machine while you are away from home. When you leave for vacation, close the water valves on appliances connected to the water system.
Author Bio
Patricia St. Pierre is the founder of Essential Home Maintenance in Los Angeles. She has over 15 years of experience as an estate manager, and when she's not helping simplify client's lives, she's on the golf course.
If you like this post, check these out:
6 Ways To Save Money By Preventing Serious Water Damage
5 Top Home Projects For The Best Return on Your Money