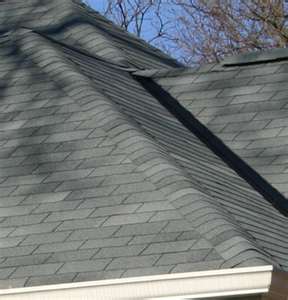 Need a new roof?
Whether you're building a new home or replacing the one you have, the decision on the right roofing material for your home can seem overwhelming.
Besides the cost, each type of roofing material has its own pros and cons, so it's important to understand what works best for your home before laying out thousands of dollars for a new roof.
Main Types of Roofing Material
Wood
Available in shakes (typically hand split wood) or shingles (machine cut wood) wood is a good choice for historic or period homes, and to achieve a rustic look if desired.
Wood is not as commonly used as other roofing options due to the cost of materials and installation, and because of the necessary maintenance of this type of material.
In addition, some insurance companies either won't insure a home with wood shingles or will charge higher rates due to the increased liability in terms of fire, wind and maintenance costs associated with this type of material.
In short, wood is an expensive roofing material both when you install it and to keep it in good repair over the years.
BEST FOR:
Asphalt
One of the most common types of roofing material is asphalt shingles. It comes in a huge variety of colors and styles, including some with the look of wood.
Asphalt roofing comes in two basic styles; three-tab and architectural. In some cases, asphalt roofing can last as long as 50 years.
Among the more economical choices, asphalt shingles are found on a diverse range of homes and commercial buildings, however they don't stand out like other types of roofing materials.
BEST FOR:
Any roof type does well with asphalt shingles, especially roofs with steep slopes.
Clay or concrete tiles
One of the oldest roofing materials, clay or concrete tiles are very durable and have been in use for hundreds of years.
As you might imagine, these types of tiles can really withstand winds, so they're a good choice in areas that are prone to high winds.
They're also energy efficient and resistant to fire, not to mention the beautiful colors and designs they can be found in.
And while they're long-lasting, tiles need to be maintained because they can crack over time.
BEST FOR:
Gently sloping roofs with enough bracing to support the massive weight of this material.
Metal
Whether aluminum, steel or copper, metal is a very popular material for roofs, due to its durability and ease of installation. It can last up to 50 years; well past the life of other roofing materials. 
Lightweight, metal roofing is available in large panels or even in individual shingles.
It can improve a home's energy efficiency and it's virtually maintenance free, saving homeowners hundreds if not thousands of dollars.
BEST FOR:
Any type of roof is suited for this material.
Tips: 
⬥ The more pitched your roof, the more area it has. This increases both the cost of materials and the cost of labor, as it will take longer to replace or add the materials to a steeply pitched roof.
Don't forget to include these factors when calculating roofing material for your home:
⬥ Maintenance – cheaper cost up-front does not equate to an overall lower cost.
⬥ Service Life – different materials have different life spans. Asphalt roofs, on average, last about 20 to 30 years. Other materials can last much longer, however some of them also have maintenance costs as well, so you'll need to weigh out the pros and cons for your situation.
⬥ Energy Efficiency – Roofs that have a low thermal mass (e.g. steel panels) will release heat more quickly. Also, light colored roofs will reflect heat, reducing the heat build-up in your home.
⬥ Your home – Consider your home's style and color when choosing the roofing material. Also, HOA rules (if applicable) can narrow down your options, so check with your association before replacing your asphalt roof with a metal one.
Here are some more tips on reviewing your roof:
Common Roof Problems You Will Likely Encounter
Most Durable Roofing Materials and Which One is Right for You
Give Your Home a Roof-Lift: 5 Tips for Replacing the Roof on Your Older Property