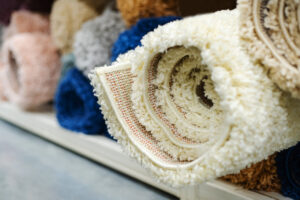 There's nothing quite like walking barefoot on a nice fluffy turf of carpet. Whoever invented carpets deserves a place in the eternal hall of honor. Thick pile carpets provide a pleasant, comfy atmosphere that could distinguish a house from a home. They give an excellent finish, and every home should have one.
What's A Carpet?
You probably know this already, but carpets come in many different patterns, styles, and colors. They're a favorite for many because they have well-cushioned surfaces, which could give your home a cozy effect. Carpets are also perfect for sound absorption, and they provide warmth to your home. Unlike most other types of floors, carpets have the added advantage of providing a non-slip surface.
If you're considering getting a carpet for your home, this article will shed light on a particular type called the thick pile carpet.

How Are Carpets Classified?
Historically carpets were made of wool, but since the 20th century, a variety of materials can be used.
Carpets are made of woven fibers that could be polyester, nylon, wool, or olefin. The density of the threads is commonly known as the carpet's pile––it can be flat or shaggy. Carpet piles also have different heights, which are basically their thickness.
Pile heights are usually classified as low, medium, or plush. So, the bigger the height, the thicker the pile.
Therefore, in simple terms, a thick pile carpet refers to a rug with a high density of fibers, which are typically plush.

About Thick Pile Carpets
Thick pile carpets are those carpets with plush fibers. They often have lots of cushioning, and they feel good to walk on. Some are so thick; you could literally sink your feet in them. Just make sure you don't drop your earring.
Because a carpet has a thick pile, it doesn't always mean that it's superior in quality. You could have a high-quality rag with a low pile that's thin. Having said this, it's essential that you consider not just the thickness of a carpet but also its type of fiber, pattern, and style.
Reasons You Should Have One
You may consider installing a thick pile carpet in your home because:
⬥ It's warm and comfortable: A thick pile carpet is perfect for relaxing. It also feels good on the feet as you walk barefoot in your home. This type of carpet also gives some extra cushion for sitting or lying.
⬥ It's attractive: Thick pile carpets have an aesthetic appeal that enhances the cozy look of your home. They add to the warm, welcoming environment every home should have.
⬥ It's excellent for insulation: Owing toitsr long fibers, thick pile carpets are ideal for your family and guests to sit on and be snug.
Ideal Places for Thick Pile Carpets
Thick pile carpets have excellent insulation properties, making them ideal for your living room and your bedroom. Because they also retain heat, you could also install them in your guest room.
You may want to have a carpet with a thick pile in areas with high traffic. But you have to bear in mind that the thick pile may feel soft and comfortable, but they're more prone to marking and crushing.
Heavy furniture could leave dents on your precious thick carpet. Therefore, you may want to consider putting them in rooms with light pieces of furniture and low traffic, but who's to stop you from putting them where you want?

How To Care for Your Thick Pile Carpet
Thick pile carpets are quite stunning when they're nice and clean. But like other types of carpets, they'll not be spared from occasional dirt and debris. And like most materials, there're not free from wear and tear.
Don't panic, though; there are several ways you could prolong the life of your carpet. Here's some of them:
⬥ Read and understand the care instructions, and take heed of their wise counsel.
⬥ Vacuum clean it regularly. It looks really fine until it needs to be cleaned.
⬥ Cover the high traffic areas with complimentary rugs.
⬥ Always have your stain treatment kit handy in case of a spill.
⬥ Regularly steam it to kill germs and mites.
⬥ Maintain a strict cleaning schedule.

Take-Home
Thick pile, high pile, or deep pile carpets have long fibers. They usually deliver the best home appearance. The tall fibers also give the carpet a plush texture and appearance.
You can use thick pile carpets in low-traffic areas such as bedrooms. But because they have a luxurious and cozy appearance, they can enhance the aesthetic value of any room in your home.
However, bear in mind that thick pile carpets need extra cleaning attention to maintain their superior look. They may also dent if you put heavy items on top of them. Otherwise, when all's said and done, this is an excellent carpet for the home.
About Author
Gary Summers is a carpet specialist. He has been in the industry for over ten years. He has a background in interior design and home renovation. Gary loves sports and music. He has a German shepherd dog named Jack.
For more posts on carpets, check these out.
Love the cozy feeling of carpets? 5 Top Carpet styles for a busy family room
How to Clean Your Carpets Without a Steam Cleaner