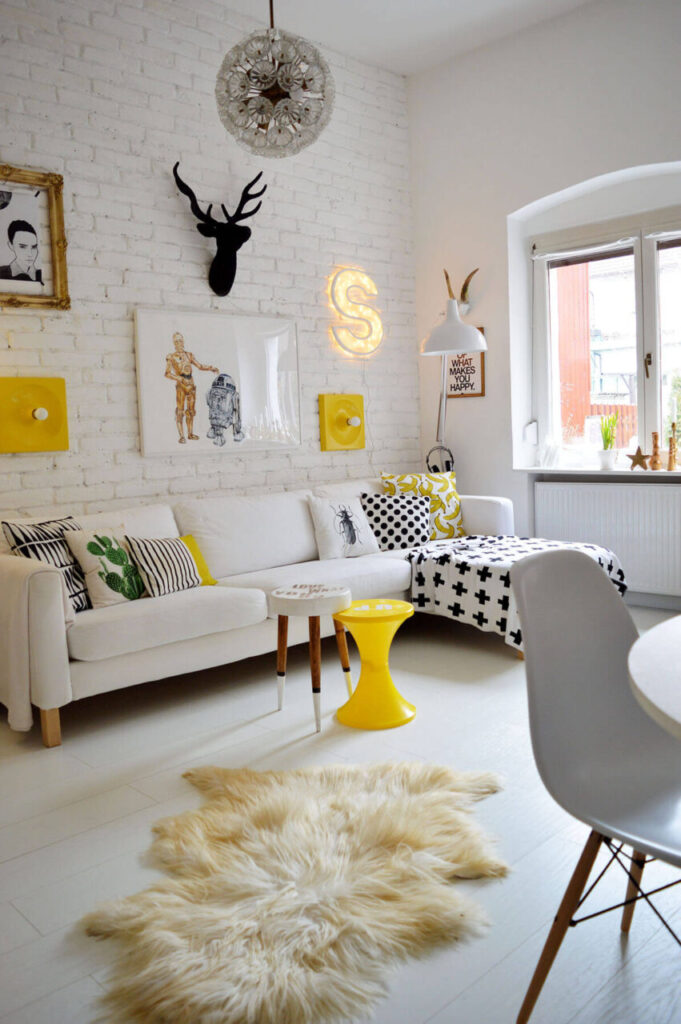 Whether you're a new homeowner trying to make your place feel like home or a long-time owner staging your house to sell, knowing where and how to begin decorating can feel daunting. While there aren't any hard and fast rules that you have to follow with home decor, there are basic guidelines you can follow to make your home comfortable — and even increase its value.
Wherever you are in your homeownership journey, here are five room decorating basics to get you started.
Prioritize Function
Though you might like the elegance and design elements found when visiting an art museum, you probably wouldn't enjoy living in one long term. Although beauty and style play a part in home decorating, it's important to select pieces that offer function and comfort instead of being limited to eye candy.
Choose pieces of furniture that will fit inside the room without interrupting the flow or making the space feel claustrophobic. You may have your eye on an oversized sectional, but if your room is not big enough to accommodate it, the piece will make your room feel even smaller than its true size. Likewise, if you're furnishing a room with large square footage and vaulted ceilings, furnishing it with an antique chaise lounge or armchairs won't make for a comfortable space, either.
If you're not sure what pieces will work best in your space, look at the photos on listings for comparable homes in your neighborhood or community. You can draw inspiration by seeing what layouts and pieces work best. You can also pick up ideas for colors and decorative elements.
Likewise, take care when selecting fabrics and finishes for furniture, walls, and window treatments. If you share your home with children or pets, it's smarter to select materials that are durable, stain resistant, and easy to clean. You'll save yourself time and money in the long run if you don't have to frequently repair or replace your furnishings.
Pick a Focal Point
Every room in a home has a primary function, and you can drive that purpose by creating a complementary focal point in each room. Selecting one focal point for the room will naturally draw the eye to it and keep the rest of the room from looking busy or cluttered.
Your home's kitchen has the most obvious function, and with it being one of the most-used rooms in a home, it's a good place to start. If you do a lot of meal prep and cooking, make the island your focal point. Buy or build a large center island with plenty of built-in storage, and finish it with a stain or pop of color that draws attention to it.
Architectural features also make for ideal focal points. For example, a fireplace or bay windows will naturally draw the eye. Celebrate these features by placing furniture around them and choosing finishes that make them pop.
Use Effective Lighting
You can spend time and money buying artwork and throw pillows, but unless you have good lighting in your home, none of your decorations will shine. Effective lighting will also increase your room's functionality while highlighting the colors, textures, and other design elements.
Lighting primarily comes from three sources: natural lighting through windows or skylights, built-in overhead lighting, and auxiliary lighting from lamps. When selecting lighting fixtures or window treatments, pick function over style. As you add lighting, make sure it highlights the areas you want — such as having adequate lighting for reading in a chair — without creating glare on TVs or artwork.
Set the Mood
When selecting colors for walls, materials for furniture, and patterns for art or accent pieces, pick a theme that will set the mood for a specific room. As with other decisions, think about the room's overall function and what kind of mood you want present.
This is especially important in bedrooms. Although bedrooms are a great place for customization and personality, you also want to make it a comfortable space that encourages rest. Choose soft blues and grays that are proven to encourage relaxation, black-out window treatments to block out sunlight, and comfortable bedding that will have you sleeping like a baby.
Incorporate Your Personality
As you make your house your home, let your personality show in the design. If you're a big reader, give in to the urge to have a floor-to-ceiling built-in bookcase installed in your living room, with a comfortable chair and good lighting next to it. If you enjoy spending time outdoors, bring the outside in with floral patterns or colors found in nature, such as sage green.
However, you should do the opposite if you're getting ready to pack up your home and move across the country. You should remove as many personal elements from your home as possible before you list it. Fewer personal touches make it easier for prospective buyers to imagine themselves making the place their own. Likewise, removing personal pieces — such as family photos and heirlooms — will keep them safe and protected during showings.
Important Home Upgrades to Improve Fire Safety