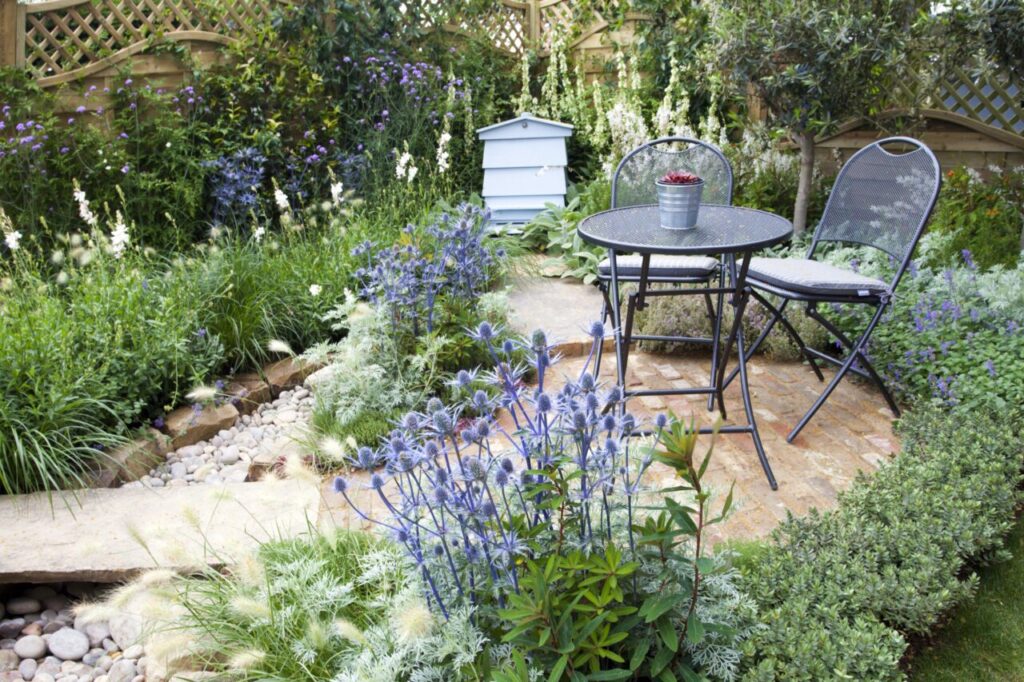 Preparing your lawn for the spring and summer seasons requires a bit of work — especially after a long, cold winter. If you're looking forward to a lush, green lawn to enjoy as the weather warms, you should start preparing now.
A vibrant lawn is an important investment. It may be a key selling point if you decide to sell your home. Whether you're planning to sell or just want the lawn of your dreams, this article will offer specific tips for readying your lawn for spring.
If you're preparing your lawn for a home sale, ask your real estate agent for additional tips and tricks.
1. Plan your ideal yard
In 2022, more than one-third of homeowners upgraded a space to increase their enjoyment. To get the most out of your space, know what your dream lawn looks like and what tools or supplies you'll need to make it happen.
If you plan to create a fire pit or walkway, for example, start saving for the tools and supplies you'll need now. The good news is you won't have to worry about growing grass in those areas.
If you'll be mowing your own lawn, invest in a lawn mower. If you'll outsource this task, call multiple lawn services to get quotes and find the best deal.
2. Pick up garbage and debris
First, you'll want to make sure your lawn is clear and ready to start preparing. Even if you're not outside often, old leaves, broken branches, decaying fruit, and even garbage from neighbors' yards can blow into your lawn. You may also have tools or objects outside that you've forgotten about. Give your lawn a quick cleaning by hand, or use a rake or leaf blower for a more effective scrub.
3. Aerate your lawn
It's a good idea to aerate your lawn if you have multiple thatches. This process pokes holes in the soil, allowing oxygen and nutrients to better reach the roots of your grass. You can use a core aerator or a spike aerator for this step. The best method is to aerate the grass in one direction and then aerate it again in a perpendicular direction.
4. Apply fertilizer in early spring
The type of fertilizer you choose will vary based on the type of grass you have and the problems in your lawn. For example, if you have common weeds, a weed and feed fertilizer will help you get the best results. Water your lawn a few days before you apply fertilizer. To apply, use a spreader and walk across your lawn in straight lines to disperse the product evenly.
5. Reseed, if needed
If your lawn needs a little extra help, you can seed it during the spring once the threat of frost has passed. Plant seed that's designed to grow best in the springtime. Cover any bare patches of soil, and follow the directions closely. You'll likely need to water the area a few times a day after applying seed to your yard.
6. Water your lawn
Typically, lawns need 1 inch of water every week for healthy growth. If there's a drought in your area or you live in a warm, dry climate, you may not be able to rely simply on rain water. Water your lawn by hand using a hose or install a sprinkler or irrigation system in your yard in late winter or early spring. Just be sure to heed any drought laws in your area.
7. Mow your yard
A well-maintained lawn can increase your property's value if you're looking to sell your home. To keep your grass looking vibrant and healthy, you need to mow regularly.
How often you'll need to mow will depend on where you live, how quickly your grass grows, and neighborhood ordinances about lawn length. You can invest in a push, electric, or gas lawn mower or hire a lawn service to perform this task.
If you have other greenery, trim bushes, hedges, and other areas after mowing so branches won't get stuck in the mower. Also weed whack if needed.
8. Add decorative touches
Once your lawn is in good shape, you can start decorating your space to fit your original vision. Add fresh mulch or gravel to areas that aren't lined with grass, and use pavers to build walkways or sitting areas. If you plan to move, keep this step simple so potential buyers can better envision themselves in your outdoor space.
Putting Your Yard's Health to the Test: 7 Steps for a Lush Lawn
Pros and Cons of Battery-Powered vs Gas Lawn Mowers