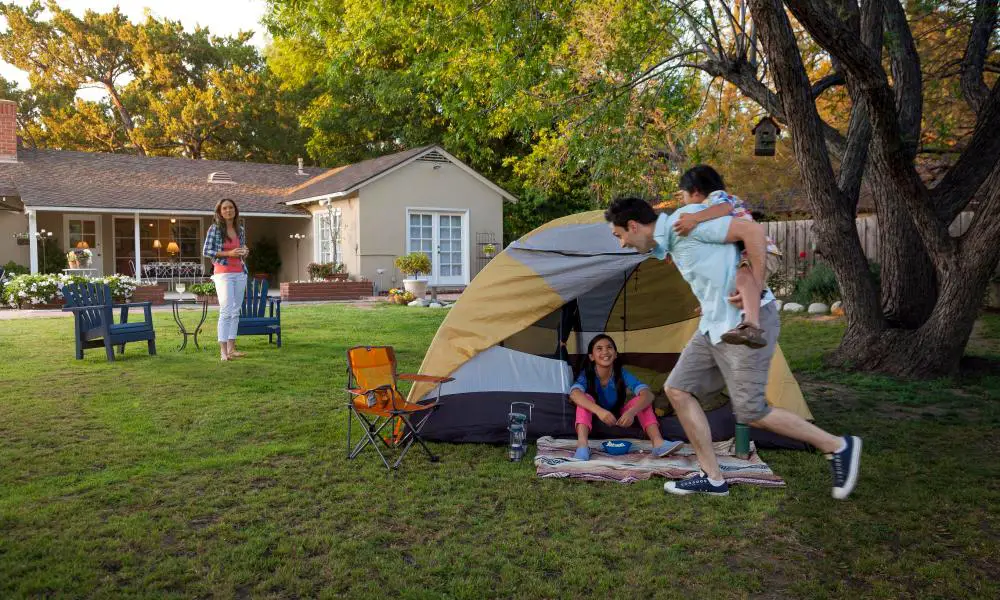 Summer brings warm weather, a break from school, and for many, vacation plans. Even if travel isn't part of your summer calendar this year, time off from everyday routines is an important way to rest and recharge.  Whether you've lived in a popular vacation spot for years or just moved to a new area, a staycation is a great way to enjoy vacation vibes without leaving home.
Here are some ideas for planning a summer staycation right where you are:
Give Outdoor Spaces a Glow Up
● Hang a hammock: Is there a better way to spend a lazy afternoon than lying in a hammock with a good book? If you don't have suitable trees in your yard, look for a model that comes with a sturdy metal frame, add some comfortable pillows, and you're good to go.
● Add a firepit: Few things say "summer" more than gathering around a campfire to enjoy the evening with good company, good conversation, and maybe a few s'mores. Adding an in-ground firepit to your outdoor space can be a fairly straightforward DIY weekend project. Other options include preconstructed firepits that simply need to be installed or portable pits that can be moved around as needed.
● Upgrade your patio furniture: Pleasant places to kick up your feet and lounge are key. Consider adding a few comfortable patio pieces if your current layout is lacking. Whether you choose a couple of chaise lounges or some cozy Adirondack chairs, create an inviting space for reading, napping, or hanging out.
● Add color with foliage: There's more to summer landscaping than a lush lawn. Think planter pots brimming with colorful annuals or a vibrant perennial garden that will explode with blooms year after year. Using potted plants and perennials native to your area is also an easy-care, water-friendly way of decorating your garden spaces.
Experience Restaurant Dining at Home
● Set the table: If the last big holiday was the last time you used your dining room, plan to eat at least some of your meals there during your staycation. Regardless of where you dine, set the table with a flower arrangement, candles, or other tablescape that reminds you of a favorite vacation spot. It's time to use the formal dinnerware if you have it because … why not? Dress up the space with a tablecloth and cloth napkins, and you have the best spot in the house.
● Order In: If your favorite part of a vacation is not cooking, then don't. Plan to order in at least a couple of nights from your favorite local restaurants, even if that's pizza and wings one night and a more elaborate meal another. There's nothing better than a quality meal that you didn't have to cook, served on fine tableware in the dining room.
● Dine alfresco: If you're staycationing in nice weather, make use of the outdoors and dine alfresco in the sunshine or the moonlight. An outdoor dining set is great, but you can also create a table for two, or a table for 12, by simply setting up a portable table and chairs anywhere your outdoor space allows. A rolling cart allows you to serve tableside.
Turn Your Bedroom/Bathroom Into a Hotel Suite
● Upgrade your linens: Ever notice how some hotels have the most luxurious sheets, pillows, and towels? Splurge for a set of new linens if you can, or switch your sheets and towels with the set you normally save for "guests" if they're in better condition from less use than your everyday linens.
● Add upscale amenities: Stock your bathroom with a few upgraded amenities like luxury soap, shampoo, bath salts, and lotion in a scent you love or that reminds you of vacation.
● Create a minibar: What hotel suite is complete without a minibar stocked with snacks? Create a basket of favorite snacks and drinks for your bedroom. Add an ice bucket nearby to be filled when you're ready to tuck in for the evening with a movie or book and a drink.
Try Out Staycation Activities
● Watch a movie: A movie night is easy to plan and always fun when you add snacks like popcorn and theater candy. An indoor movie marathon always works, but consider an outdoor projector, so you can gather under the stars if the weather is good.
● Tourist in your hometown: Whether you live in a large city or a small town, there are likely areas that are new for you to explore. Are there any exhibits, museums, galleries, parks, or hiking trails you've never seen? Check out new restaurants or shops, or spend a day exploring nearby towns and points of interest.
● Go camping: Set up a tent in your backyard, roast some hot dogs, and gaze at the stars. If weather is an issue and space allows, set up a tent indoors, switch on an "outdoor forest" soundscape, and enjoy.
● Knock out those home improvement projects: For some, tackling those home improvement or home maintenance projects that have been lingering on your to-do list is an ideal way to spend some of their staycation time. (But don't feel bad if getting chores done is not your idea of relaxing!)
With some thoughtful planning, a staycation can be exactly the break you've been looking for to rest and recharge. Unplug, put your phone away, and reconnect — all without leaving home.
How To Create Hotel-Like Spaces in Your Home
7 Projects to Get Your Home Ready for Summer Fun That Cost Less Than a Smartphone