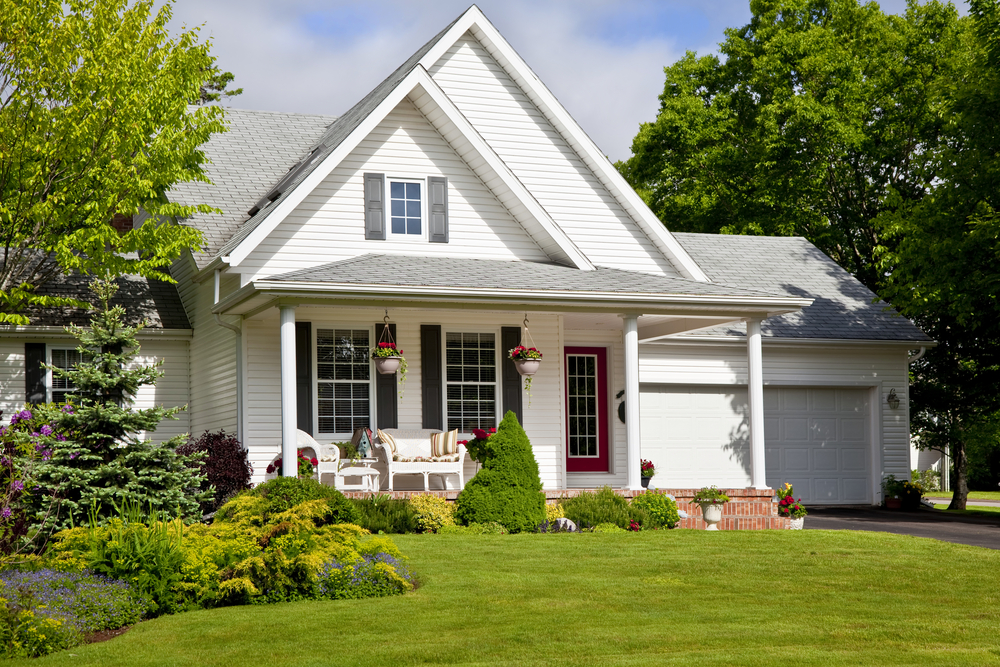 It always feels good to update your home's curb appeal, whether you're doing it for yourself or because you're getting ready to sell. With a little creativity, you don't even have to pay for expensive landscaping. In fact, you can update the exterior of your home and your front yard on a budget. Here are seven simple ideas.
Paint your front door
Your front door is the focal point of your home, and all it takes is a half gallon of paint to transform it. Choose your color at your local hardware store, and make sure you purchase paint that can withstand the elements. You don't even have to paint both sides of your door. Just painting the exterior a bright color can completely change the look of your home.
Install window boxes
Installing crisp, white window boxes on the front of your home can enhance your curb appeal. Purchase a few low-maintenance, green plants and mix them with flowers that are easy to maintain. You can even make window boxes yourself with a few scrap pieces of wood if you're handy. Or you can purchase them from your local hardware store. Window boxes are relatively inexpensive, and with the right tools and know-how, you can complete this upgrade in one day.
Pressure wash your home
Most people do not pressure wash their homes regularly. However, deep cleaning the exterior of your home can make a huge difference in your curb appeal. If you don't have a pressure washer, you can rent one for a small fee from your nearest home improvement store. Or, ask one of your neighbors if you can borrow theirs. After you're finished pressure washing your home, you can also pressure wash your driveway and your garage doors. It's a satisfying and easy upgrade that you can do in a couple of hours.
Modernize your house numbers
Something small, like updating your house numbers, can make a big impact. If you have old, chipping house numbers, it's very inexpensive to purchase new ones. Opt for large house numbers in a modern font that are easy to see from the road. If it's in your budget, you can also purchase a new mailbox that matches the style and color of your house numbers so that it coordinates.
Mulch your garden beds
Mulch is incredibly affordable. You can purchase mulch at your local hardware store. Otherwise, some landscaping companies will deliver mulch right to your front door. First, decide on a color of mulch. There are a few different varieties, but typically you can buy brown, black, or red mulch.
Purchase a few extra bags than you think you'll need because you can always return any excess to the store. Bags of mulch are only a few dollars each, and it would only take one day to refill your garden beds and create a new, updated look.
Trim hedges and plants
If you have overgrown hedges and plants in your front yard, trimming them can help your home look more streamlined. It's easy for large plants like hydrangeas and hedges to quickly get out of hand, especially if you've had a lot of rain — or if you water your front yard regularly.
If you don't have a hedge trimmer, it should cost no more than $20 to get handheld hedge shears. It might take a little bit of work, but in an afternoon, you can drastically improve the curb appeal in the front of your home just by trimming greenery where necessary.
Add some personality
One benefit of being a homeowner is that you can make the front of your home reflect your personality. So, if you want to add a friendly yard sign, a cute garden gnome, or even install a free lending book library, you can add your own touch to your home.
A lot of homeowners also enjoy adding a flagpole, so they can display their support of college teams or change out their flags to reflect each holiday. Others enjoy putting flamingos in their front yard or other garden creatures that can make passersby smile. So, don't be afraid to inject your own personality into your front yard. That could be the greatest addition to your curb appeal of all the items on this list.
How to Give Your Curb Appeal a Summer Makeover
The No Lawn Movement: Is it Right for You?