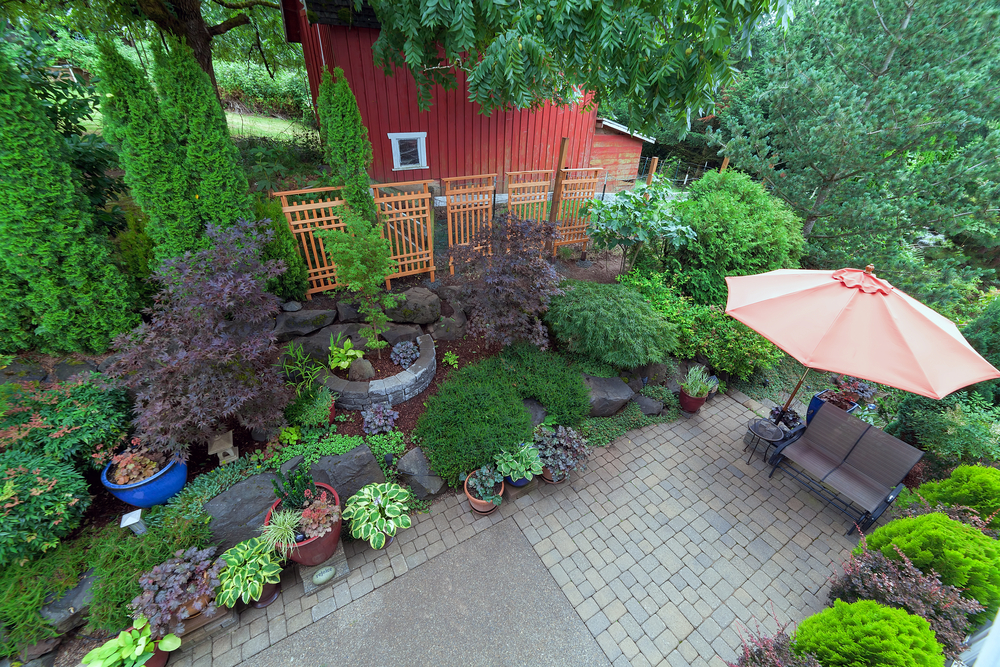 Now that summer is in full swing, it's a great time to make over your garden. Whether you own your home or rent, here are twelve creative ideas to make your space truly stand out.
Purchase colorful planters
Sure, modern black planters can be beautiful. However, summer brings to mind bright colors and whimsical decor. You can purchase planters in bright colors like pink, turquoise, or yellow. Also, consider buying several different sizes and arranging them throughout your garden to bring some vibrancy and variation to your outdoor space.
Add water features
There are many different ways to incorporate a water feature into your summer garden. You can create a small pond, purchase a fountain, and even find a way to landscape your yard to create a waterfall. The sound of water can be incredibly soothing, which creates an inviting ambiance in your front or back garden.
Another simple addition is a bird bath. Once birds realize you have a bird bath in your yard, you can start to enjoy and appreciate the different species that live in your area.
Create a salsa garden
One creative way to set up a garden, especially if you're new to growing food, is to create a salsa garden — i.e., growing the ingredients you need to create homemade salsa. This project would involve planting different colored peppers, tomatoes, and spices, such as cilantro. This is a creative way to make an edible garden that you'll actually use all summer long.
Add the perfect napping space
If you have room in your yard, it's always fun to add a hammock or swinging bench, where you can lie down, relax, and enjoy a nap in your backyard. If you have a pergola or gazebo, this is a great place to add a cozy chair or hammock. Depending on the climate you live in, you might also need to add a fan to make the outdoors a little more bearable during the summer heat.
Add twinkle lights
Twinkle lights can transform an otherwise boring backyard into something out of a storybook.
Search for DIY instructions that explain how to create your own posts in cement so you have a place to string up lights. You can never have too many twinkle lights in your backyard, and if you ever plan to sell, it's something buyers typically love.
Install creative art
There are plenty of interesting sculptures you can purchase to truly make your yard pop. Whether you install modern art, purchase a family of garden gnomes, or make a fairy garden with tiny houses, there are a lot of options when it comes to making your backyard oasis particularly artistic.
Think vertical
It's easy to think about garden beds and planters when creating your perfect outdoor area. However, don't forget about your vertical space. One option is installing hanging planters to draw the eye upward. Many homeowners also enjoy vines or adding a trellis for flowers like roses to blossom.
Create a living roof
If you've never seen a living roof on a garage, shed, or gazebo, you're in for a treat. A living roof involves covering a roof with shallow gardens of small, green plants that thrive in sunlight. Not only does a living roof make for a creative addition to your garden, but it can also be practical, as it will absorb water and reduce runoff.
Add stepping stones
There are so many unique stepping stones on the market today, enabling you to create a beautiful mosaic pathway throughout your outdoor space. You can even personalize them, and create your own concrete stepping stones with your children's or grandchildren's handprints on them.
Go glam
If you have an outdoor dining space, consider going glamorous by adding a chandelier. It can be garden-themed, such as purchasing a wrought iron chandelier that you later adorn with greenery. You could also make it more upscale by adding an actual crystal chandelier to an outdoor space.
Install a garden chalkboard
If you have a fence or the back wall of your house, you can paint it with chalkboard paint to create a space for children to draw — or a spot where you can write inspirational messages or sketch your own artwork. It's a unique space that many will love and cherish, especially if you are artistic and enjoy changing out the art and messaging.
Create a garden meditation space
If you enjoy meditating or want to start the practice, create a tranquil area in your backyard where you can do so. You can purchase a small gazebo or simply add several outdoor pillows. Create beautiful sounds with wind chimes and pleasant smells with aromatic flowers. This charming ambiance will help you look forward to meditating each day.
Ultimately, the ideas above can elevate your outdoor space, increase your home's value, and create a backyard that is truly one of a kind. Whether you've been living in your house for decades or are still working toward your first starter home, hopefully, you'll be able to incorporate some of these tips for a summer garden makeover, either now or in the future.
4 Compelling Reasons to Start Growing Your Own Garden
Unique Gardening Problems and How to Solve Them