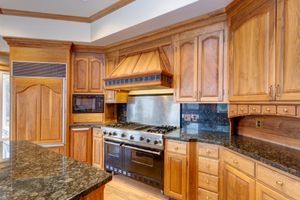 If you want to renovate your kitchen without replacing your cabinets, there are many different ways to update your cabinetry. From painting, adding new hardware, and installing glass panes, there are several ways to change and refresh your kitchen's design without undergoing a large-scale renovation.
You can complete some of these projects in an afternoon. Others might take several weeks or require you to hire help. Either way, whether you're simply looking for a change or trying to sell your house, it's worth updating your cabinetry.
1. Paint your cabinets a new color
One of the most effective ways to dramatically change the look of your kitchen is to paint your cabinets. This is a time-intensive task, but it's much more cost effective than replacing your existing kitchen cabinets.
Painting cabinets requires taking off all the doors and moving them to a location where you can sand, prime, and paint them. Then you'll need to prep, prime, and paint the cabinet boxes. This process can take several days, but once everything dries and is put back in place, you'll have a kitchen that feels brand new.
If you don't have time to paint your cabinets yourself, you can hire a professional to complete this task.
2. Replace your hardware
Another simple way to update your cabinets is to change your hardware. Buying new cabinet knobs and pulls can change the style of your home and make it more modern. There are so many places to look for new hardware, including craft stores, home improvement stores, and home decor sites online.
Changing your hardware is a relatively simple and quick update that can be completed in one afternoon. You can also exchange your hardware when you paint your cabinets or work on another large-scale cabinet project.
3. Add crown molding and trim
Another way to enhance your existing cabinets is to add crown molding and trim. If your cabinets have a flat front, you can easily add trim and paint it to match your cabinets. You can also add crown molding to the top of your cabinets to create a more finished look.
If you already have crown molding or trim but it's outdated, you can remove excess trim and molding to create a more streamlined, modern look.
4. Opt for open shelving
Instead of having heavy cabinets in your kitchen, exchange one or two of them for open shelves. Although some homeowners think converting a cabinet into open shelving will reduce much-needed storage space, others believe shelves can make a room more open. Ultimately, you have to decide which option will suit your design style and kitchen type best.
5. Apply wallpaper and corkboard
The inside of your cabinet doors are typically underutilized design spaces. Apply wallpaper or corkboard to this space to add texture and a fun pop of color. Skip the messy pastes and use peel-and-stick wallpaper for easy application and removal.
6. Install soft-close cabinet and drawer hinges
Many home buyers look for homes that have soft-close cabinets and drawers. This feature is desirable in a kitchen because it reduces wear and tear on your cabinets and your kitchen appliances, especially if you have young children who are prone to slam doors. What most homeowners don't realize, however, is that you can install soft-close cabinets and drawers yourself by purchasing and installing the right hardware.
7. Add glass panel inserts
Create a high-end cabinet by exchanging the front of your cabinets for glass panels. This makes your cabinets look more expensive and adds visual interest. If you want to DIY this project, you'll likely need specialized tools and safety gear, so proceed with caution.
8. Stay organized
If you don't have the capacity or the budget to paint, add glass panels, or install open shelving, the simplest update you can do is organize. Organizing your dishes, spices, and canned food can make your space feel more open and more enjoyable to use every day.
Take everything out of your cabinets and sort the items. Donate duplicates or items you no longer need. If you want to organize your space better, there are numerous organizing tools at the dollar store or on Amazon.
What To Consider When Staining Kitchen Cabinets
The Reasons White Kitchen Cabinets Will Always Be Popular