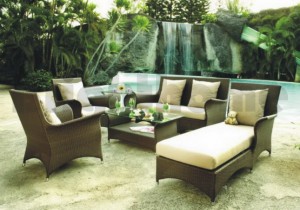 It's probably happened to a majority of us. We buy fancy new outdoor furniture for our patio for the summer, we love it… we show it off… we use it every other day. Then it starts getting cold and we don't use it as often, but it still continues to sit outside. Then winter comes and it snows. And the furniture still sits outside. Then it gets stained. It stinks. It gets ruined. So outdoor furniture maintenance is lacking in this case, but lesson learned.
So how do you go about outdoor furniture maintenance so that your outdoor furniture can be enjoyed season after season? Well, that depends on what kind of outdoor furniture you have. But if you stick to these outdoor furniture maintenance tips for common types of outdoor furniture you'll be good to go.
Metal Frame Patio Furniture
This includes aluminum, iron, steel and more. Obviously, the biggest threat to metal and especially metal that is outdoors for any extended period of time, is rust. One thing you can do to help prevent rust is to treat your furniture with paste wax after you thoroughly clean it. If you do see a weathering of the metal, you can rub it down, let it dry and then carefully spray paint the furniture with a rust proof paint.
Fabric
The biggest threat to furniture like hammocks, cushioned outdoor furniture and sling furniture is the potential for the fabrics to fade. To help prevent fading from the sun, simply bring your cushions inside when you aren't using them. If you intend on washing your cushions, another option that will help prevent fading is wash them on delicate cycle.
Wicker
With wicker, you want to focus on keeping it clean and dirt free. Do the same thing you would do with metal frame furniture in cleaning it thoroughly and then treat it with a paste wax. Do not paint your wicker furniture unless you want to change the color.
These are simple outdoor furniture maintenance tips that can help you keep your outdoor furniture looking fresh and new.