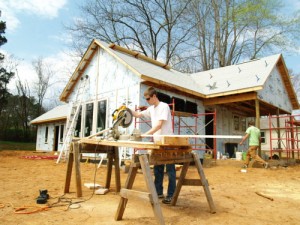 The Size of the Project – There is a big difference between replacing a toilet and redoing a bathroom. Write down all of the aspects of the project, what tools you will need, the time it is estimated to take, etc. This will help you determine whether it is realistic to do it yourself or not.
The Safety of the Project – If a project requires any electrical work, and you have little to no electrical work experience… hire the job to be done! The same goes for potentially dangerous power tool work. Either hire it done or get a friend or family member with proper experience to help you.
The Amount of Time it will Take – How valuable is your time? You must take careful consideration of how much time the project could potentially take. If you are redoing a bathroom, you have to think about how that will effect the rest of the family members. That might means everyone trying to get ready in one bathroom in front of one mirror every morning until the new bathroom is ready. Just something to consider.
A DIY project can be an extremely fun and rewarding experience, but most of them have hidden or unexpected challenges that arise. We hope the above suggestions help you decide whether to take your next project on or hire it done by a professional.
Do you have any successful or not-s0-successful DIY project experiences? Please feel free to share them in the comments section below or post them on our Facebook page at www.facebook.com/HomeZada.