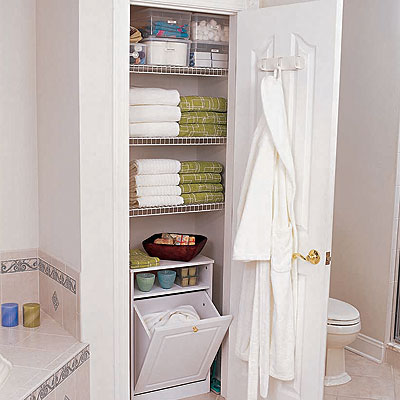 Do you have a packed linen closet or maybe you cannot find exactly what you need in your linen closet.  This article by Redbook Magazine gives 5 great pointers on how to make some space in your linen closet. 
1. Save space with vacuum-sealed bags.
You will have more room in your linen closet by sucking the extra air out of quilts, blankets, and beach towels. Do not use the vacuum treatment  on comforters or pillows. If you do use the vacuum method, comforters and pillows will not fluff back up when you take them out of the bag.
2. Use bins for hotel minis, etc.
Oh, don't look at us like that. We know you take the extra mini from hotel bathrooms. Put your travel-size loot in one bin. And add medications, first-aid stuff, and seasonal items in other bins. Organizing little items into bins helps create organization in a linen closet.
3. Place dividers between piles of towels.
Separate towels by bathroom. Guest towels for guest bathrooms. Kids towels for kids rooms. Beach towels for the beach and so on.  Another tip is to use a rubber ducky or some other fun bathtub toy. Adding a rubber ducky to a pile of towels specific to the kids makes it easy for your little ones to spot their stack.
4. Install towel rods on the door
Installing towel rods and then hanging your tablecloths so you won't have to iron out creases is a great way to store your tablecloths.  As a result, there is one less thing to do before your next party.
5. Stacking sheets is best when properly folded for more space. Here's how to make each set of sheets into a nice, neat stack:
– Tuck in the corners of the fitted sheet while you fold it. Then fold your pillowcases and place both in a pile.
– Fold your flat sheet until it forms a long strip.
– Rest the fitted sheet and cases on one half of the flat sheet. Just fold the flat sheet over them, and you're done!
When searching for solutions for better linen closet organization, try this list below.
Suggest Products
Easy Fold Plastic Step Stool, $14.99; bedbathbeyond.com
Tall Shelf Dividers in White, $11.49; organize.com
Franklin Brass Futura 24″ Towel Bar in Chrome, $11.99; homedepot.com
Space Bag Set, $19.95; spacebag.com
Translucent Stacking Basket [on bottom shelf], $7.99; containerstore.com
Large Grid Tote, $12.99; containerstore.com
Read more: Organize Linen Closet – Storage Ideas for Linen Closets – Redbook