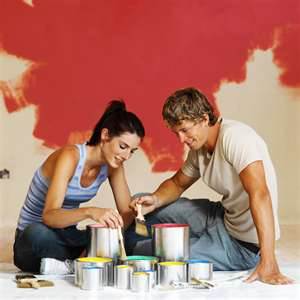 Guest Blogger, Tom Corliss
Freshly painted rooms done in the right color and finished like a professional was hired can make a huge difference in both your home value and how you feel about your home.
This article will give you the basic ideas of how to paint a room and wall painting secrets after you have chosen your color to get great results. For more help on wall painting secrets read my article titled, How to Pick Paint Colors Like A Designer @Home Information Guru.com
Step 1; Making Room:
Having the room to work with out bumping into things is important as not to have any mistakes or spills. Remove as much as possible from the room. Anything that needs to stay should be completely covered with drop clothes. Cheap plastic ones are fine for this use.
Step 2; Keep it Clean:
Covering every inch of flooring with a good quality drop cloth is very important to ensure no mess to clean up later. Use either heavy gage plastic or good quality fabric drop clothes meant for painting.
Step 3; Clean it Up:
This is a step most people skip. Cleaning the areas to paint properly. If you leave dirt, smoke residue or oils on the surfaces new paint will not adhere correctly. Wash all surfaces with a mixture of TSP and water. Use a sponge or soft rag. This will leave a nice surface to start your project.
Step 4; Remove Obstructions:
Remove all electrical, phone, cable or other covers that are on the surfaces. Using blue style painters tape, carefully, tape the surface of the plugs and switches. Many people just paint right over the top of wall plugs. This is both dangerous and very ugly. DO NOT DO THIS.
Step 5; Make Painters Tape Your Friend:
Unless you want to go back after you paint all of the walls and have to touch up the trim and ceiling I highly suggest that you buy a few rolls of good quality blue painters tape and apply it to the edge of all trim work and at the corner of where the wall and ceiling meet. I have been painting professionally for a lot of years and I will tell you it is very difficult to paint a straight line and keep the wall color off of the trim work without taping.
Step 6; Having the Right Equipment:
For a great paint job you need to use great equipment. This does not mean you have to spend a lot of money buying all sorts of special gazettes. Buy one 1 ½" angled high quality paint brush for the type of paint you are using. Personally I use either PRUDY or WOOSTER brand brushes. Next buy 1 high quality 9" paint roller cover. Do not use cheap covers, they leave can leave debris on the walls, they do not cover well, and the finish will not look good. I buy only sheep or lamb rollers. They do cost more but the cover, finish, and clean up is superior.
Use any paint pan that your roller fits properly. I use tray liners in my pans to speed up the clean up process. Other tools that I use are; Slim Line 4" roller and 5 in 1 painter's tool. Step ladder to reach to ceiling level, Painter roller extension to reach the height you want to go. Wire brush.
Step 7; Easy Set-Up, Easy Clean-Up:
Now that you have fully prepped that space and you have all of your tools you need let's get started. I always set up a space out of the way of where I will be moving around to set the paint and equipment. Put down a plastic cover over your other floor covering for extra protection in the area where you will be working with the paint. I get a small bucket of clean water and a rag to have for any clean up. If you are using more then I gallon of paint of the same color, you should blend the numerous cans of paint together in a large clean bucket then pour them back into the gallon containers. This will ensure consistence of the color. Make sure to keep a garbage bag under the paint tray for any drips.
Step 8; Prime for a Superior Finish:
If you are painting over walls that have a flat paint finish on them you may not need to prime. Any other finish and you should prime first. Priming will make sure the paint adheres to the surface correctly and always the true paint color to show through when you're finished. You can now buy paint that has the primer in the paint already. These products work very well and make the process much easier because you can skip this step. The products do cost more but are cheaper then buying primer and paint and also save you time.
Step 9; Let's Get Painting:
If you are priming then this step will cover both priming and top coats. Make sure to be patient and take your time. Start but cutting in the edges of 1 wall all the way around the trim and ceiling. Paint out about 2" from the trim. Next use the 4" Slim line roller and expand on this 2" line out to about 4" to 6" form the trim. Next with the large roller paint areas about 3' squares before refilling the paint roller. Do not get to much paint on the roller but, also do not dry roll the wall either. As long as the roller is making a sucking sound as you roll you have a good amount of paint. Fish this whole wall before moving on to the next. You do not want to leave paint lines where you have started and stop.
Continue until all of the walls are painted. Wait 1 hour after priming to apply the first top coat or 2 hours between top coats. I always recommend at least 2 top coats. Some dark colors may require more coats. When buying your paint ask the people at the store if a tinted primer is recommended for the top color you are applying.
Step 10; Clean Up:
This is the part most people do not like. If you buy good quality tools they will clean up much easier. Throw away you paint liner. Do not reuse. For the roller cover, first using your 5 in 1 painter's tool, scrap down the roller cover to remove any excess paint. Next wash the roller cover in warm water. When almost clean use a little soap to remove any extra paint. Shake out most all water and let dry for next time. Wash out most all paint from the brushes in warm water. Next use a wire brush to clean any paint off of the top metal wrap part of the paint brush and any dried up paint by the handle. Gently was out the brush with some soapy water. Brushes can last for years if well cleaned each time.
These are the 10 step wall painting secrets to increase your home's value that I use on a regular basis to increase value in my properties. If you take your time and follow these steps you will have a great paint job.
I hope you found this information informative. I encourage you to take some time to use these tips. For more information about saving money and increasing your homes valve please check out additional interesting articles on our website: Home Information Guru.com
By: Tom Corliss, Copyright © 2012 by Tom Corliss All Rights Reserved