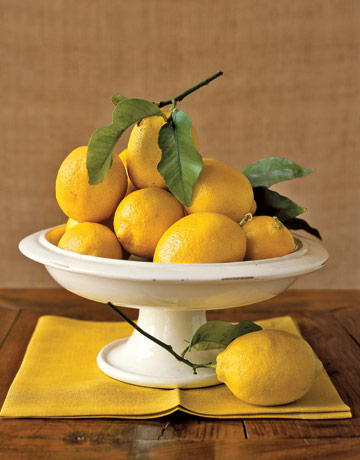 Lemons are in season from November to March. Lemons are used in cooking and preparing cocktails but did you know that lemons are also a great tool to help you freshen up your home. A lemon makes a great natural ingredient and support green cleaning.
Use Lemons Like:
– Using lemon rinds in your garbage disposal can give a fresh scent. Now you no longer have that not so pleasant odor.
– The juice of lemons with a small amount of baking soda to create a paste can brighten grout.
– Using a bowl of water and adding ½ of a lemon to the water can also help clean your microwave. Add the bowl of water with the fruit in the microwave and turn it on to create a steam bath of that disinfects. Remove the mixture and wipe down the inside of the microwave. Now you have a clean and disinfected microwave.
– Use lemon to remove stains on a cutting board. Let the juice and pulp sit on the boards and then wipe off with water. However, lemon with its acid is not always safe for stone surfaces.
– To remove rust spots in your sinks or tubs, squeeze the juice combined with salt to create a scrub. This will naturally remove rust.
– Use lemon to clean you windows by mixing a small amount of juice with water. The result is a streak free and sparkling windows.
– Disinfecting your dishwasher by pouring 1 cup of lemon juice to the empty dishwasher and running on the rinse cycle becomes an easy cleaning technique.
Many of your household items can be used to naturally clean your home.  Lemons are one natural solution to freshen and disinfect your home.