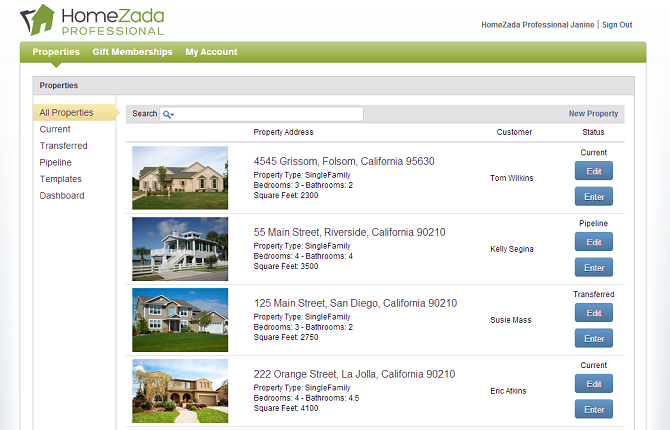 HomeZada released a solution for the professional community that services the homeowner. HomeZada Professional is available to professionals in the Real Estate, Residential Building, Insurance and Service Provider industries. With HomeZada Professional, professionals have the ability to create a digital home profile.  
HomeZada Professional gives professionals the ability to create an online digital profile like taking a home inventory and creating a maintenance schedule for their clients. Once they have created this information, the professional can give their clients a valuable tool to to manage their home. Transferring data to the client once it is completed in a safe online solution gives homeowners the ability to track everything in their home. It also creates a more productive relationship between the homeowner and their home. HomeZada Professional also allows professionals to gift a copy of HomeZada with branding inside the application. This enables professionals and clients to stay connected once a transaction is completed.
Home Builders
With HomeZada Professional, home builders can enter fixed assets about the home. Entering fixed assets like finishes during the construction process and digital transfer this data reduces paper costs. Also, setting up a maintenance calendar helps homeowners properly manage the home after the construction process.
Real Estate Pros
Real estate professionals can gift HomeZada premium to their clients. Or they have the option to create a profile that stores all the real estate closing documents. This enables a paperless real estate transaction process. And a solution that keeps the documents in a safe online location is accessible anywhere.
Insurance Pros
Insurance agents have the ability to help their homeowner policy holders create an inventory. Once the inventory is created, transferring the inventory to the homeowner is easy. Homeowners can now leverage HomeZada Premium to manage all aspects of their home. Insurance professionals can assist their clients in securing this inventory. This up to date inventory will help make sure the homeowners are properly insured.
Services Providers
Service Providers like Home Inventory Professionals, Professional Organizers, Estate Managers and Property Managers can track all the necessary fixed assets and possessions within a home to better inform their clients of their belongings. Once this data is created they can then transfer a copy of this information to their client to manage their records.
Any HomeZada Professional user can track multiple properties.
To learn more about HomeZada Professional, visit us here.