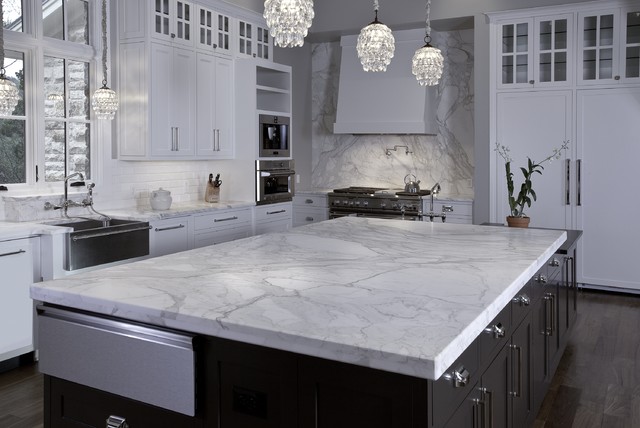 Today we can find a variety of counter top materials to use to create a specific look or feel in a kitchen.  Let's take a look at the variety of kitchen countertops and their pros and cons to using them in a kitchen.
Tile
Tile and specifically ceramic tile has a great use in a the kitchen. Ceramic tile is very durable and can withstand hot pans being set on them. Tiles are easy to clean and affordable. Additionally, ceramic tiles give you an extensive range of color and style choices to choose.  The challenges with tile is that they can chip or break, the surface area is uneven which can cause spillage. Additionally, grout could discolor over time.
Granite
Granite solves the problem that tile has of unevenness. Solid granite is a smooth surface that comes in large pieces to be sized for the exact area you need. Granite comes in a variety of colors and generally no two pieces are the same due to the veins and natural creation of the stone. This surface of granite can also hold up to the heat of hot pans. In fact, granite can act as a natural defroster of food. The challenges with granite are  it can be expensive and could require some maintenance of either sealing the stone or repairing cracks or chips. It is not recommended you cut on granite as knives could cause dullness.
Caesarstone
Caesarstone or other similar products is a great solution that combines the use of quartz in its construction process. It has a range of colors and has a stain resistant and scratch resistant surface. Caesarstone is extremely easy to maintain. It is built to your specifications. And it is also heat resistant. This a great solution with a lot of low maintenance benefits. However, this solution can run a slightly high price compared to other counter top options.
Corian
Corian and other solid surface products like Avonite or DuPont's Zodiaq quartz surface are custom made counters that come in a variety of colors. This kitchen countertop has a flat solid surface, and is stain resistant. And if you do get scratches, these scratches can be sanded out on this surface. The challenge with these types of surfaces is that they are not as heat resistant as the other counter top materials. These solutions depending on your budget can actually be expensive.
Butcher Block
Like some of your cutting boards, wood counter tops are durable and easy to clean. Additionally, wood can be fixed easily if a stain or scratch occur. Wood counters can be used without a cutting board. However, you will need to sand periodically if you want to keep a neat and polished appearance. Like any wood in your home, wood counter tops can be stained, scratched and require regular oiling of the surface to maintain its functionality and durability.
Stainless Steel
Stainless steel can provide you with a restaurant kitchen look. The surface, stainless steel, is also heat resistant and easy to clean. It can be molded to the shape and size you need with a clean flat surface. However, stainless steel can be expensive, it can scratch therefore you cannot cut on it and it can show dents and dings easily.
Marble
Marble can show off a kitchen spectacularly. However, marble has an extremely high cost to it. Unfortunately, marble is also a product that requires constant maintenance. Because it can easily stain even from water marks from glass condensation. It can withstand hot heat of pots and pans and can be waterproof is the correct sealants are applied. Sealing marble is a regular maintenance project and can sometimes require professionals.
Concrete
Concrete counters have been popping up in a variety of places and this is one of our personal favorites. This surface of concrete can be formed in any shape you like. It also has colors that can be added to the material to create a unique look. Like many of the other counter top materials, it too is heat and scratch resistant. However like in all concrete that you see outside, this material used inside can also crack and does require sealing to avoid stains. Based on the process of pouring concrete to create a shape and the weight of concrete, the cost to make and install this product might be out of range for most kitchen updates or remodels.
There are lots of choices to update kitchen counters and some of these quick tips might help in your research for the materials that best fit your lifestyle and the look you want to create in your home.