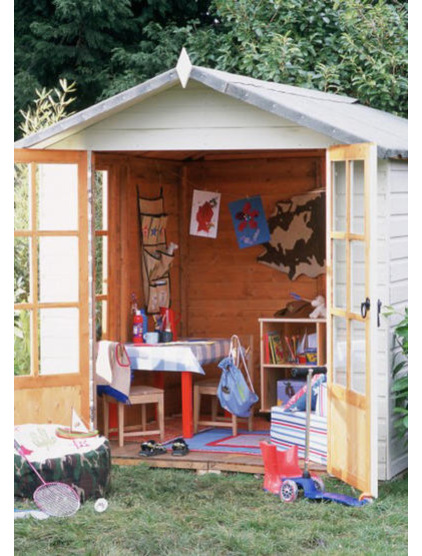 A shed is a great way to store tools, equipment and machinery for your yard or your home's maintenance. However, sheds are now used for other functions. Sheds are a great way to add more space without actually  renovating or remodeling.
Gardening
As an avid gardener, a shed is a great place for you to keep your supplies. A shed can also act as an area to get seedlings started into plants. As a gardener, sheds are great places to map gardens and plan for the planting season. Use sheds to hang dried flowers and herbs for use in recipes, gifts or home decor.
Writing Space or Home Offices
Are you a writer or work full time or part time from home?  If so, a shed is a great space to create privacy. A shed allows you to get your work done without distractions. Therefore, outfitting your shed with electric and windows give you a more productive work space. A shed as a work space is a great way to get away without fighting commuter traffic.
Play Space
Adventure is what children often crave. Using a shed to create a playhouse, storage of toys or a land based tree house can give your children the ability to find the adventure they crave. Getting the kids involved to help with the design of the shed for their use is a great family activity.
Hobby Room or Art Studio
As an artist, you have this insane ability to create masterpieces. If you are a painter, sculpter or wood carver, using a shed to manage your craft will give you a place to create. And the shed keeps the excess mess out of the main house. For the hobbyist out there, a shed can have the same affect by giving you a place to get your work done. Further, this shed is a specifically designated space for your tools and materials specific to your hobby.
Workout Room
Maybe what you really crave is a place to work out that will not bother the rest of the family, but keep you close so that you can get your workouts in when it is convenient for you. Thus, turning a shed into an exercise room where you have space to get your yoga moves in or where you can lift weights to increase your muscle capability can easily be converted.