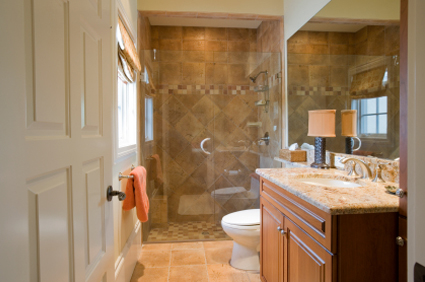 A bathroom remodel is popular with homeowners because homeowners often times want to update the finishes or they want to reconfigure the layout to get more space. Some homeowners are interested in increasing the value of their home and a bathroom remodel will add value to a home and also help a home sell faster if a homeowner is ready to sell their home. A bathroom remodel can be simple or more detailed and require help from remodeling contractors or simple updates that can be conducted by the homeowner. When conducting a bathroom remodel, ask yourself some questions. Do you like having only a shower or only a bathtub, or is your preference for both a shower and a bathtub? Do you want new cabinets or just new counters? Many of these questions are affected by the current room space and plumbing layouts. Costs will also play a role in a bathroom remodel as these spaces can be expensive to enhance in a home.
Typical items for a bathroom renovation
There are a lot of plumbing fixture choices to select in a bathroom project. And there are also other smaller items that require decision making. Do I add new towel racks? Are draperies necessary for my windows? Do I update my lighting? It is important to understand that when renovating a bathroom, each part works together and sometimes cannot easily be moved without moving something else. Consult a specialist like a plumber when updating your bathroom if you decide to move major components like showers, toilets and sinks. Here is a list of items to consider in your research and that will require you to develop a budget.
| | | |
| --- | --- | --- |
| Base Boards | Faucet | Sink |
| Base Cabinets | Floor Grout | Toilet |
| Bath Faucet | Floor Tile | Towel Racks |
| Bathtub | Insulation | Wall Lights |
| Bathrub Tile | Medicine Cabinet | Wall Decor |
| Ceiling Lights | Mirrors | Window Treatment |
| Countertop | Moulding | Labor |
| Drywall | Paint | |
 How to renovate a bathroom
Plumbing, electrical, HVAC (heating, ventilation, and air conditioning), carpentry and flooring skills are required to complete a full remodel of a bathroom so most people select a contractor if they do not have the experience. You could save some money if you do some of the demolition work yourself as long as you remember to shut off the water and power to the bathroom. Keeping the layout the same reduces costs with less plumbing and electrical, but changing the layout may be your ultimate goal to make the space more usable.
For more tips on home remodel projects, sign up for HomeZada to manage all the details of your remodel projects.