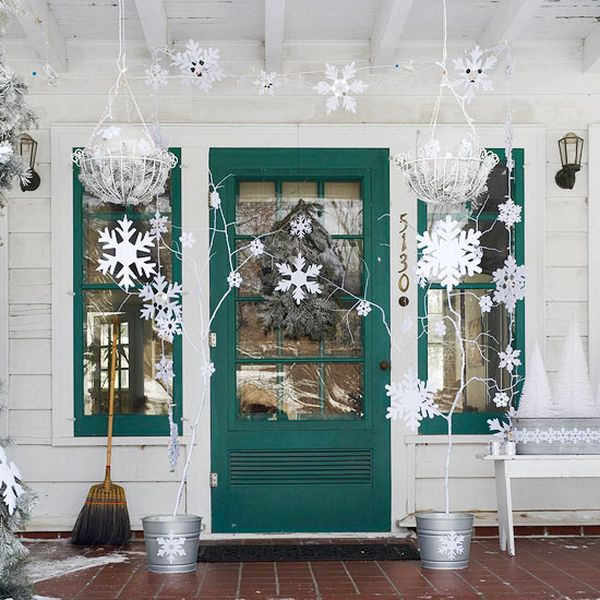 The holidays are a great time to step up your decorating sense.  Whether guests are arriving or parties are in full swing. Or maybe you just want to share the holiday spirit with your neighbors. Adding holiday decor to your front entrance can create a welcoming feeling.
Recycle
Incorporating old sleds, buckets or other items found in your attic or garage can become a handy way to decorate your home's entrance.  A recent visit to a flea market or yard sale could result in great finds or treasures. Treasures like some great old ice skates or brooms that might go with your front door accessories. Look at the items in your home and rethink their purpose. A bunch of old socks can add character to a wreath or measuring cups can be the new ornaments on a outdoor potted tree. Look closely at what you have to create an old yet new kind of holiday decor.
Keeping it Real
Hanging swags of nature pine or evergreen trees found around your home, will add a hominess to your entrance. Your front door will standout naturally and also make your front entrance smell fabulous. Add items like pine cones, berry branches or holly limbs will bring your front entrance to life. Adding nature's bounty to your front entrance will give you a down to earth and yet regal look to your front door.
Re-purpose 
Bringing in a rake to hold ornaments as part of your decor is a great way to re-purpose existing items for use in your decorating efforts. Try wrapping a soccer ball or basketball with Christmas lights for a temporary lit ornament for your front porch. Try old ornaments or holiday cards and add them to a wreath or swag to create a personalize front entrance. How about adding an old dresser to the front porch with greenery, ornaments and holiday trinkets coming our of the drawers to remind your guests that the holidays are here. Using existing items with a new purpose will surprise your visitors.
Craft It
Adding crafts to your front porch can bring a very personal touch to your holiday decorating. Take old boxes, wrap them and place them around your door to let people know that Santa made a stop. Try using paper to create snowflakes and hang them from the top of your porch area. Even adding the names of all the little angels that helped you create the snowflakes can add a more personal touch. Try using old jars and cans, paint them and then add them to your front porch with tea lights in them to create personalized luminaries.
Whatever design you choose, we hope your front door welcomes the happiest of visitors this holiday season.