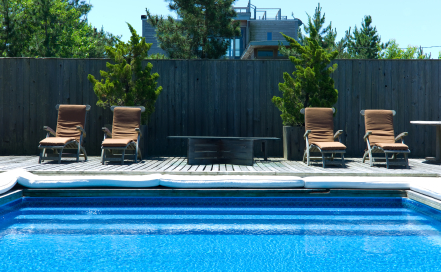 Pool season is upon us and there are some facts that need to be understood, as well as, safety tips that anyone either owning or participating in the use of a pool should understand. It is estimated that 300 children younger than five years old drown in swimming pools and spas and more than 3,200 go to the hospital due to pool injuries annually, US Consumer Product Safety Commission.  In pools and spas, hair, jewelry and bathing suits can get caught in drain covers or limbs can get lodged in suction openings.  This causes problems as people and small children get stuck in these situations and some body parts can be held underwater by suction from the filtration systems causing death.
Reviewing your pool's equipment and surrounding areas can help prevent some of these injuries. 
Inspect your Fence Around the Pool
A secure and strong fence is paramount to keeping children, pets and other animals safe.  Walk the perimeter of your fence, check for loose posts or boards, check for wear and tear or rot of wooden panels, and check latches or locks.  If you have any damage or weak areas in your fencing, now is the time to fix these areas.  Checking locks and latches is also good and making sure they are high enough that a child cannot reach them is important.
Storing Covers
If you live in an area of the country where you open and close your pool for the seasons and it requires covers, be sure to pack those covers away in a location where they cannot be reached. Covers can cause problems where adults or children could fall into them and then not come out of the potential danger of being wrapped in the covers.  This is also good for anyone that has solar heater covers that are removed prior to using the pool.
Check your Pool Equipment
It is time to check the pool equipment to verify that it is operating correctly and the filters are free and clear of debris.  Checking on your pool equipment will help ensure your pool runs efficiently and if replacement parts are needed, this is a good time to take care of these replacements.
Check and Repair Pool Decking 
As children and family enjoy your pool, they often can trip if there are areas that are damaged. Reviewing and repairing the area around your pool will save little feet and also protect against potential tripping into a pool after hitting a head. These kinds of injuries could result in the unfortunate.  Additionally, if you are using outdoor rugs, make sure they are secured down on the ground as these too could cause tripping accidents.
In addition to practicing these maintenance tips, please take the time to practice standard pool safety of adults outside when children are around, keep a phone close by in case of an emergency, and understand basic emergency care techniques.