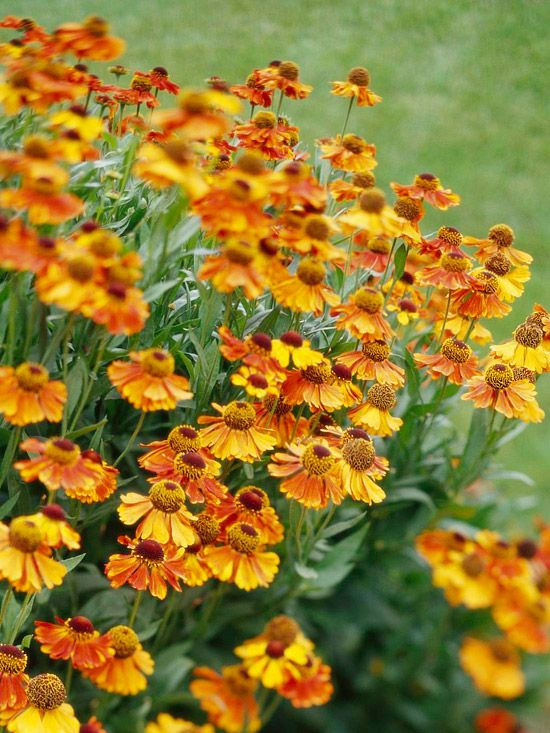 Guest Blogger: Francesca Holmes
If you thought spring was the only time to plant and indulge in some gardening, you've come to the right place! There's no need to worry about your garden turning dull and lifeless as fall approaches as there's a lot you can grow depending on where you stay.
Even if you don't want to grow plants in the cold months, preparing your garden for next spring will be helpful in more ways than one.
Here are some great fall gardening tips you'll find helpful.
Clean up the Place
Start with clearing the ground of fallen leaves and twigs. Remember to save the leaves to make compost. Pick up fallen flowers and fruits, and dispose diseased or infested plants appropriately after uprooting.
Check the ground carefully for weeds and get rid of them. Some perennial weeds can be killed more easily with fall weedicides than with summer applications.
Don't Uproot it All
While you may want to uproot annuals that flower in summer, leave a few of them untouched. Certain annuals and perennials like ornamental grasses, tall sedums, and Russian sage will add interest to your fall and winter garden.
Store Bulbs and Seeds
If you had planted some great annuals in the summer, you can store the bulbs and seeds for next spring. For bulbs, let root structures dry out for a few days after you dig them up. Shake off excess soil and store in a cool, dark place in sawdust or peat moss. Seeds of open-pollinated plants can be stored in paper envelopes placed inside glass jars indoors.
Freshen up the Soil
Freshening up the soil will help your fall plants grow to their full potential. Further, by growing plants that can replete the soil with nutrients, you'll be doing your future spring plants a favor.
Move the existing layer of mulch to one side. Compacted soil can hinder root growth so use a garden fork and fluff up the ground. You may want to test the pH of the soil at this stage and make amendments as needed.
Once you're done, see if the old mulch can be reused; you might have to add in fresh organic matter if the mulch has decomposed considerably.
Shred the dead leaves you picked up while clearing your garden and spread them over the ground. Shredding leaves is important as whole leaves will form a mat and prevent water from flowing through the soil. Wet the shredded leaves down or cover with a light dusting of compost to stop them from blowing away.
If you're planning to grow fall vegetables in your garden, use straw as mulch. This will help as you can easily scatter and move straw about. Moreover, it will provide an excellent home for spiders who will help keep pests away.
Take Care of Green Cover
Grass will turn green again after the blistering-hot summer and will grow vigorously next spring if you fertilize it while it's still green. Refrain from mowing it too short, and continue to aerate and water it until it turns brown. If snow cover is scant where you live, you can water your lawn once a month throughout the winter.
Synthetic grass won't require as much care and maintenance. However, continue caring for your synthetic turf as you normally do to keep it looking lush and natural.
Choose Fall Plants Wisely
Before you start planting fall varieties, identify your fall gardening goals. Do you want to grow plants of a particular color or texture, or do you want to fill in blank spots created by dead warm-weather plants?
Decide on a fall garden plan and remember to stick to established gardening guidelines to ensure your garden looks as pretty as it does in the warmer months.
When it comes to selecting plants, note that depending on where you live, you can grow several plants and vegetables in your garden in fall and winter. Try growing vegetables like lettuce, cabbage, broccoli, kale, and chard, and you'll fall in love with the taste of home-grown produce! Do plant some quick growers like radishes and spinach- these can go from seed to table in a month or so.
To add color, you can grow ornamental grasses or succulents. Trees that show fall colors will also be a great addition to your garden.
Conclusion
Gardening in fall allows you to appreciate the beauty of nature season after season. With fewer pests to deal with, your fall plants are sure to grow better. And when you plant perennials in fall and winter, you can relax knowing that they'll grow bigger by spring and be better adapted to brave the hot summer!
Now that you've read these tips, you know that fall gardening isn't tough at all. With just a little care, you'll have a beautiful garden to look at even in the cold months.
Happy gardening!
About the Author: Francesca Holmes is a writer and often writes about home improvement tips. When not on a mission to bring high-end architecture to the masses, she enjoys exploring the great outdoors.