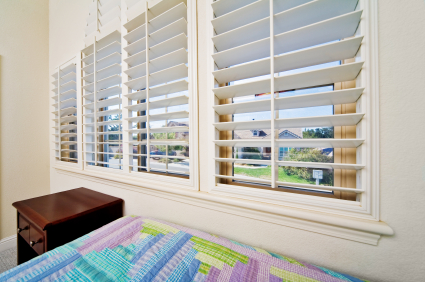 Privacy, as well as, a good nights sleep are key uses for adding blinds to the windows in your home. Shading a room or managing the heat possibly getting into that room are some other uses of blinds. Whatever use or need you have for a blinds or window coverings, window blinds can serve both an aesthetic or design look, as well as, a functional purpose. There are many different styles of blinds to choose from including horizontal, vertical and even swing out models. Blinds made of wood, synthetic materials, metal or vinyl. A multitude of colors and looks like grain or solids or even fabric covered blinds. Whatever look you want in your home, the functional purposeof blinds is primarily to let natural light in, or to prevent light from coming into the home. Keep in mind that different rooms in your home may have different needs regarding light. Some people like their bedroom to be completely dark at night while others like some faint light to come through.
Items to budget with new window blinds
When buying new blinds for your windows, determining the number of windows and the dimensions of each window is the most important part in developing a budget for window blinds. Measuring dimensions of the windows is critical to securing blinds that will work and fit into your windows. If you leverage a provider of these blinds, they may have staff that can visit your home and help with these measurements.  Remembering installation of the blinds is also another cost that will be incurred if you are not going to install these blinds yourself.
     Window Blinds
     Installation Labor
How to plan for new window blinds
There are many different retail and online outlets that offer window blinds.  Once you have determined the number of windows and the dimensions of each, start to develop a prioritized criteria over what features are most important for each rooms blinds.
As an example, you may have high windows where you want battery operated blinds in opening and closing them.  Other rooms might have an upscale interior design so you want blinds to match with the quality of the rest of the room.  Simple functionality over blocking out sun may be a priority in different rooms.
With all the colors and styles of blinds, a set of new blinds can also help refresh a room at a reasonable costs.
For more tips on home remodeling projects, visit the HomeZada Remodel Template Library.